Storms in South West: Bude and Portreath evacuation planned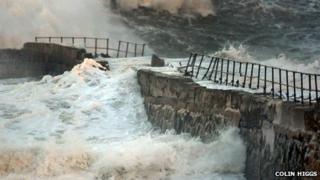 More than 100 homes could be evacuated as rain and strong winds are again forecast to hit south-west England.
Residents of homes known to be at high risk of coastal flooding in Bude and Portreath in Cornwall are being advised to vacate their homes during high tide periods on Saturday.
About 20 properties Bude and 90 in Portreath could be affected.
The Environment Agency has issued six severe warnings for coastal areas in Devon and Cornwall.
"Significant disruption" is expected throughout the South West and the agency also has a live flood warning map showing where its alerts and warnings are in force.
The region which has already experienced one of the wettest Januaries on record according to the Met Office.
Cornwall Council said staff would be visiting all the properties at risk to offer advice and support.
The two periods of most concern on Saturday are from 05:00 GMT to 08:30 and 17:00 to 21:00.
The council said the 90 properties in Portreath could potentially be affected "if - and only if - the beach pier is breached".
A multi-agency "silver control" will be operational at County Hall in Truro from 04:30, with representatives from the Environment Agency, Devon and Cornwall Police, Cornwall Council, Cornwall Fire and Rescue and other agencies.
A decision will be taken later on whether to set up a silver control in Plymouth.
Members of the public have been urged to be aware of the extreme conditions and to stay away from coastal areas.
"Storm chasers" from Plymouth University are monitoring the effect of the storm - dubbed Hercules Take Two - on tidal defences.
The marine scientists have set up monitoring equipment at Porthleven in Cornwall, where waves of more than 5m (16ft) high were recorded in November.
The unit measures the impact of the pounding surf on the gravel beach, a natural coastal defence.
Principal investigator Professor Gerd Masselink said: "There is currently limited scientific guidance available to provide beach managers with operational tools to predict the response of gravel beaches to extreme storms.
"To properly record storm response, conditions before, during and after the storm need to be recorded.
"This means we have to head out at very short notice and then stay on-site for as long as it takes."
'Apocalyptic vibe'
Devon-based surf forecaster Magic Seaweed said the storm would not have the same intensity as the one named Hercules, which battered the coast over the new year.
Magic Seaweed's Ben Freeston said: "Hercules Take Two is a very different storm but the results - massive swell and gale force winds coupled with huge spring tides - make for a similarly apocalyptic vibe."
The Environment Agency said coasts and tidal areas of Cornwall, Devon, Dorset, Somerset, Bristol and South Gloucestershire were all at risk on Saturday and Sunday.
Kate Marks, an Environment Agency flood risk manager, said: "A low pressure system combining with high tides brings a risk of coastal flooding to many parts of England.
"The risk is highest for south-west England and the public should stay away from the coasts and tidal areas and not drive through flood water."
The second highest tide of the year is expected on Sunday.