Police commissioner scrutiny figures prompt 'real concern'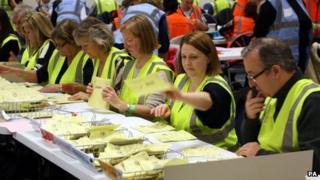 Hundreds of meetings held to scrutinise the performance of police and crime commissioners (PCCs) go by without a public question being asked, BBC News has discovered.
Just 52 questions have been asked at 280 meetings held since England's PCCs were elected in November 2012.
Labour said the figures were a "real concern" and called for reform of the system which it said was "not working".
The Home Office said PCCs had replaced "invisible" police authorities.
PCCs were elected in 37 force areas in England in November 2012. Their work is scrutinised by police and crime panels, mainly made up of local councillors, who meet regularly in public.
Information provided by panels and an analysis of meeting minutes by BBC News found 52 questions have been asked at 280 meetings held between November 2012 and January 2014.
The research found:
Eight of the 37 panels do not accept questions from members of the public and there is no legal requirement for them to do so
Of those that do invite contributions from the public, 13 have not received a single question since they were formed
The Hertfordshire panel has received the most questions, followed by those in North Yorkshire and Sussex
However, Paul Scoins, BBC Three Counties Radio's political reporter, said the Hertfordshire panel often dealt with multiple questions from the same person.
'Invisible'
A Labour spokesman said the findings proved reform of the system was needed.
"Following the low turnout at the elections, these figures show that public engagement with police and crime commissioners remains a real concern," he said.
"The present arrangements are not working or good enough, especially when it comes to providing an oversight of commissioners."
However, the Home Office said its reforms were working and some forces had seen public engagement increase by up to 800%.
"Directly elected police and crime commissioners have replaced invisible and unaccountable police authorities," a spokesman said.
"Everyone now has a direct say in how policing is delivered in their area via the ballot box."
The commissioners, who are paid between £65,000 and £100,000, have the power to appoint and dismiss chief constables, although police and crime panels have the authority to suspend a PCC or veto certain decisions.
Some panels only allow questioning of members and not the commissioner.
'Scrutiny'
Aside from their attendance at formal panel meetings, PCCs also attend other community forums and invite members of the public to submit questions in writing or online.
Policing and transparency blogger Richard Taylor said panels could do more to welcome input from the public.
"These panels are the only people with the power to force police and crime commissioners to answer questions," he said.
"Where you've got power it's so important to have oversight and scrutiny. The police have a lot of power over our society and we need to make sure that the safeguards and checks and balances are in place."
Elections for PCCs saw the lowest recorded turnout, 15.1%, at a peacetime non-local government election in Britain.
A BBC News poll, conducted a year after the elections, found more than a third of people in England and Wales had no idea if there was a commissioner.
Last month, the National Audit Office said there were not enough controls over the power of the commissioners, who control more than £12bn of police spending.
The Home Office highlighted police and crime panels in Sussex and Surrey where meetings are broadcast live online.
'Public appetite'
Surrey PCC Kevin Hurley said he wanted everyone living in Surrey to have an opinion on police matters.
"I have made it my business to foster that debate as far as I can and make sure that the police service in Surrey is open to scrutiny and challenge," he said.
"Public appetite to engage in political issues is there. Think of the popular movements against the sell-off of national forests or the mooted military intervention in Syria.
"The challenge for PCCs and police and crime panels is to harness that appetite.
"To do that, we need to present the issues facing policing in a clear and engaging way, and we need to give the public faith that their views are taken seriously, that it is worth their time to get involved and to speak up."
A report published this month by the Centre for Public Scrutiny called for panels to consider how they could "better engage the public".
In response, the Association for Police and Crime Commissioners said PCCs would continue to work with panels "to ensure that accountability and transparency arrangements" worked for local people.