Iceland food bin theft case dropped by CPS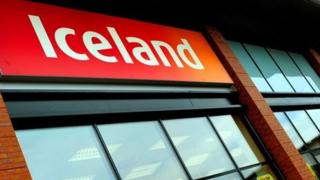 The case against three men accused of stealing food from bins outside an Iceland store has been dropped by prosecutors.
Paul May, William James and Jason Chan were arrested in Kentish Town, north London, in October.
The men denied charges brought under the 1824 Vagrancy Act.
The Crown Prosecution Service (CPS) said Iceland had made representations that "affected our assessment of the public interest in prosecuting".
Following the case being dropped, Iceland founder and chief executive Malcolm Walker tweeted: "Delighted @cpsuk has agreed to drop the Kentish Town prosecution - though it's hardly the 'Iceland Foods case' as we knew nothing about it!"
Baljit Ubhey, from the Crown Prosecution Service, said: "This case has been reviewed by a senior lawyer and it has been decided that a prosecution is not required in the public interest.
"While the decision to charge was taken by the Metropolitan Police Service, a subsequent review of the case by the CPS did not give due weight to the public interest factors tending against prosecution."
The Met said it would not comment on the CPS's decision to drop the case.
Mr May, 35, Mr James, 23, and Mr Chan, 31, all of no fixed address, allegedly took tomatoes, mushrooms, cheese and Mr Kipling cakes from bins behind the store.
They were expected to say they had been "skipping" - a term used for taking food from a bin or skip that would otherwise go to waste.
'U-turn'
Following the case being dropped, Mike Schwarz from law firm Bindmans, who was representing the men, said: "We are pleased to note that the Crown have discontinued the case of our three clients- accused under the pre-Victorian Vagrancy Act of being in an enclosed premises.
"They planned to plead not guilty, arguing that they were not acting dishonestly - a defence we felt confident the court would agree with at this time of austerity, food banks, food waste and profligacy by supermarkets."
Mr Schwarz criticised the CPS for coming to a decision "so late... in the light of media exposure".
Earlier, Iceland issued a statement to say its staff did not call the police and the store had been trying to find out why the CPS believed it was in the public interest to pursue a case.
The supermarket said: "The store in question is next door to a police station. Iceland staff did not call the police, who attended on their own initiative.
"Nor did we instigate the resulting prosecution, of which we had no knowledge until the media reports of it appeared yesterday evening."