Landslip continues to disrupt Sussex and Surrey train services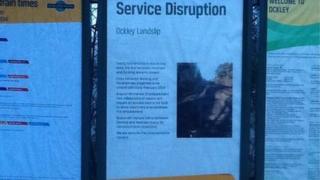 Rail users travelling between West Sussex, Surrey and London are still facing disruption after a landslip blocked a line on Christmas Eve.
Network Rail has been working round the clock to clear about a thousand tonnes of embankment, which collapsed from under the tracks between Dorking and Horsham.
A limited service has been running on the line near Ockley since 13 January.
Passengers have been told it should be fully operational by mid-February.
In the meantime, a replacement bus service between Dorking and Horsham continues.
Network Rail said the clear-up operation had been "a considerable challenge" due to the inaccessibility of the site, and a new road had to be built to bring machinery down to the tracks.
'Robust repairs'
Tim Robinson, route managing director, said: "Now we are under way things are going well, and we've begun to install a wall of sheet piles.
"These are partly buried in the ground, to form a new base to the embankment.
"We will then need to deliver between four and five thousand tonnes of new material to fill the gap before we can begin to run trains again."
He said once the work was completed a former footpath would be restored and the area replanted.
Sir Paul Beresford, the MP for Mole Valley, urged rail users to be patient and allow Network Rail "to make sufficiently robust repairs" to ensure passenger safety and future delays of a similar nature were avoided.
He added that Southern had agreed to reimburse 50% of the weekly cost of a season ticket to any season ticket holders travelling from affected stations for the period of the disruption.