£140m bill for public sector translation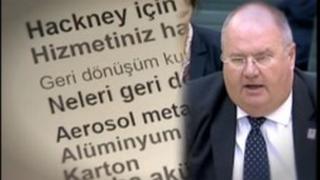 Many councils say they are struggling to cut the cost of translation services for migrants.
The government wants local authorities to reduce the amount spent on translating documents for non-English speakers.
Latest estimates suggest that £140m a year is spent on translation by the UK public sector as a whole.
Communities and Local Government Secretary Eric Pickles said: "If people can't speak English, particularly migrants, they are at a disadvantage because they won't be able to integrate into British society, get a job and get off benefits."
Lincolnshire has seen a large number of migrant workers settle in the county in recent years - the majority from Eastern Europe.
I met Juarate Matulioniene, a leading figure in Boston's Lithuanian community.
She told me that the majority of migrants wanted to learn English, but sometimes they needed a helping hand.
Ms Matulioniene said: "Translation is very important in an emergency, when we go to hospitals and when children go to school and they don't know a word."
Lincolnshire County Council spends £155,000 a year on translation services.
UKIP councillors have called for the programme to be scrapped and the money re-invested in frontline services.
Legal duty
Conservative deputy leader of the county council Patricia Bradwell says the authority has done all it can to reduce the cost of translation, but it has a legal duty to ensure that some documents are accessible in different languages.
Speaking to the Sunday Politics in Yorkshire and Lincolnshire, Councillor Bradwell said: "We have seen an increase in the number of children coming into care and that has led to court proceedings.
"All documents that go into court have to be translated and we also have to provide an interpreter for families whose first language is not English."
Some local authorities claim the decision to switch responsibility for public health from the NHS to councils has also put greater emphasis on the need to translate leaflets into foreign languages.