Guinness World Record for youngest Atlantic Ocean rowers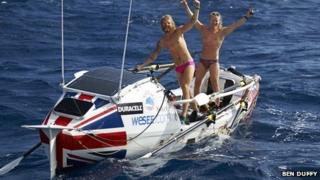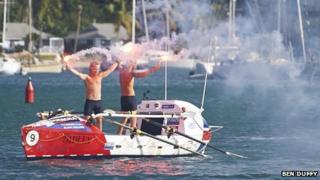 Two British 21-year-olds have become the youngest pair to row across the Atlantic Ocean.
Luke Birch, of Doddington, near Lincoln, and Jamie Sparks, from Islington, north London, took part in a 3,000-mile Atlantic challenge race.
Two Boys in a Boat set off from the Canary Islands on 3 December and arrived in Antigua on Monday - after 54 days of rowing.
Tom Heal and Will Smith, a few months older, had held the record since 2009.
The pair have so far raised more than £188,000 for Breast Cancer Care - well above their £150,000 target.
Mr Sparks, also a student from Bristol, said being "gutsy, tough and persevering" got them through the challenge.
"It's the most remarkable thing I have ever done, I don't believe I'm really here yet," he said.
"There were huge amount of bad times... I've had four hours sleep in the last 24 hours, but we will only remember the good things.
"It was the most incredible experience and I'll never get the opportunity to do anything like this again."
'Tough, gutsy, stubborn'
Mr Sparks added that he could not have completed the challenge without Mr Birch.
"Luke's very tough, very gutsy and very stubborn which is what you've got to be when you're on a boat in the high seas.
"We had this goal and we would do anything to achieve it."
Mr Birch, also an Edinburgh student, said there were about 200 people waiting to welcome the pair as they pulled up into the harbour in the Caribbean.
"I was wondering who they were waiting for really, it was extremely odd," he said.
"It was all quite overwhelming, I was expecting my family and a few other people, it's amazing."
He said it was "emotional and wonderful" to be reunited with his family on dry land.
'Back to reality'
Mr Birch added: "Once you get a taste for something like this, you're always going to start thinking about the next thing.
"We had a little talk about walking across the Antarctic, but [we will do] nothing for now - I've got to go and finish university... back to reality."
The Talisker Whisky Atlantic Challenge is billed as the world's toughest rowing race.
The two friends completed it in 54 days, five hours, 56 minutes and 26 seconds - finishing fifth overall and second in the pairs.
They were one of 17 teams to start the challenge in La Gomera.
During the event, no outside support is allowed and no extra supplies such as food and water are given to the teams.