Flood delays Welney Wash Road flood warning signs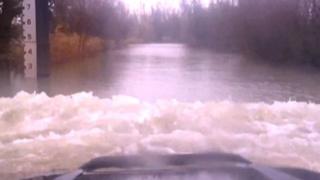 Installation of electronic flood warning signs intended for a Fenland road which is regularly under water has been delayed - because of flooding.
Councils in Cambridgeshire and Norfolk were hoping to install the signs on the A1101 at Welney.
Karl Rands, highways manager for West Norfolk, said contractors could not install sensors as the water was too deep.
The road has been closed since 27 December.
Last winter, flooding closed the stretch for about 50 days.
It was hoped the new signs would be in place before this winter but "technical issues" and testing caused delays, Mr Rands said.
Installation of the signs, three of which have been purchased by Norfolk County Council and three by Cambridgeshire County Council, can now not take place until the floodwaters subside.
The water is currently about 1ft 8in (0.5m) high at the point where contractors need to install the electronic sensors.
"They are unable to access the area with a mechanical cherry picker to place the sensors, but, apart from that, the signs are ready to go," Mr Rands said.