Marie Easter spared jail over sisters' crash deaths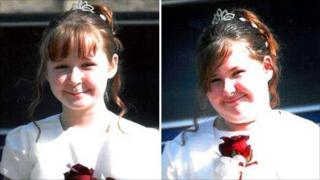 A woman has been given a suspended jail sentence over a road crash that killed her partner's two young daughters.
Marie Easter, 44, was driving the family to the cinema when she swerved off the A47 at Walsoken, Norfolk.
Tamzin Portor, 10, and Jessica, seven, were killed in the crash on 27 December, 2012.
Easter, 44, of Terrington St Clement, Norfolk, admitted two counts of causing death by dangerous driving at Norwich Crown Court.
Judge Mark Lucraft sentenced her to 15 months in jail, suspended for two years, and banned her from driving for four years.
Norfolk Police found that Jessica may not have been wearing a seatbelt and the rear tyres of the Ford Focus had dangerously low treads and uneven pressure, which would have made it hard to control.
The girls' father, Allan Portor, suffered broken ribs in the crash. His son, Liam, 12, suffered cuts and bruises.
Easter was also injured in the crash, which happened as she drove the family to the cinema in Peterborough.
The crash happened at about 18:40 GMT on a stretch of single carriageway.
The car veered off the road, rolling into a ditch and landing on its side.
Easter told police she swerved to avoid another car but witnesses said they had not seen this vehicle.
'Broken woman'
The court heard how an engineer from RAF Marham was passing the scene and helped Mr Portor and the three children out of the car. Easter was already outside.
All five were treated by emergency workers and taken to the Queen Elizabeth Hospital in King's Lynn, where the girls were pronounced dead.
Post-mortem examinations found both had died of multiple injuries.
Neil Guest, mitigating, said Easter was of good character but was now a "broken woman", who had made a fatal mistake and would have to live with the consequences.
He said there was no ill feeling between the two families involved.
'Terribly sad case'
Judge Lucraft said it was a difficult case, but that two young girls had been killed as a result of Easter's dangerous driving and he had to take into account the impact on their family when sentencing her.
Steve Matthews, from Norfolk Police's serious collision investigation team, said: "This is a terribly sad case where families' lives have been torn apart by the deaths of two young girls.
"What began as a festive treat turned into a tragedy due to the careless driving of Easter.
"Other factors may have contributed to the severity of the collision, but ultimately Easter's driving was substandard and caused the sisters' deaths."
He said the case highlighted the importance of wearing seatbelts.