Police dogs 'attack 150 innocent people' in UK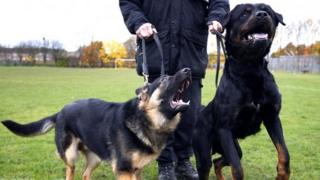 At least 150 police dog attacks on innocent people have been reported in the past three years, a BBC investigation has revealed.
Police forces in the UK said they handed out a total of £120,000 in compensation between 2011 and 2013.
Claimants included children as young as 10, joggers and a photographer.
The grandmother of one victim wants the use of aggressive dogs for enforcement purposes banned but police bosses have said they perform a vital role.
Tom Cutbill was playing in his grandmother's back garden in Oldbury, West Midlands, when he was bitten on the leg by a police dog last year.
'Life changing'
Officers had been searching for four suspects when a dog handler entered the private garden and his German shepherd-Belgian Malinois cross attacked Tom, who was aged 10 at the time.
Tom's grandmother Bev Bakewell, 52, of New Henry Street, said no amount of dog training would eliminate the possibility of innocent people being attacked.
"The figures speak for themselves - they [police dogs] should not be used at all," she said.
She said the attack on Tom, who is yet to receive any compensation, had been "life changing" for him.
"He is apprehensive all the time, he won't stop in a room on his own," she said.
West Midlands Police, which has previously said Tom will receive compensation, said its investigation into the attack is ongoing.
A total of 48 police forces - 43 in England and Wales, Police Scotland, Police Northern Ireland and three national forces - were asked for details of police dog attacks on innocent bystanders in the past three calendar years and how much had been paid out in compensation.
Forty-two replied in some form, three refused and three said they did not hold the data.
Some forces declined to reveal how much compensation had been paid on grounds of "confidentiality". Some cases are still being investigated and some payments have yet to be decided.
The oldest alleged victim was a 69-year-old reportedly attacked by an Avon and Somerset Constabulary dog.
Out of the forces to reveal compensation payments, the Metropolitan Police, the largest force in England, paid the most: £44,535.70. Greater Manchester Police paid out £25,100.
The Independent Police Complaints Commission launched an investigation into South Yorkshire Police after 38-year-old Dawn Priestley was bitten by a police dog while she put out her washing in Sheffield.
In Gloucestershire, police said a 10-year-old girl was allegedly bitten on the hand when a dog escaped from the back of a van.
Greater Manchester Police said a 47-year-old had launched a compensation claim after allegedly suffering stomach injuries and fractured ribs while helping someone who was being bitten by an escaped police dog last year.
'Highly trained'
In other reported incidents:
Merseyside Police said one of its dogs bit the leg of someone in their late 60s who was helping them find a suspect.
Devon and Cornwall Police said a 55-year-old man was attacked by a police dog which had been let off its lead by a handler. Officers were arresting an offender in a garden when the victim left a house to investigate the commotion and suffered injuries to his right forearm.
Surrey Police paid £30.40 to replace the trousers of someone who was bitten while a police dog and its handler were being photographed in March 2011.
Cleveland Police paid £9,000 to a police officer bitten on duty in 2011 and a press photographer and jogger were the alleged victims in attacks reported in Warwickshire and Staffordshire respectively.
The Police Service of Northern Ireland said an 11-year-old bystander was bitten in the groin after stepping out from behind a tree during a search for an offender.
South Wales Police reported four claims in the past three years. Police Scotland paid one claimant £500.
A BBC investigation in 2011 revealed £770,000 had been paid out to people bitten by police dogs over a three-year period.
But on that occasion, the police forces were not asked to provide the figures specifically for innocent bystanders.
It was up to individual forces to decide if the claimants fell into the innocent bystander bracket in the latest investigation.
Assistant Chief Constable Gareth Wilson, from the Association of Chief Police Officers (ACPO), said police dogs are trained to high standards to respond to a variety of situations.
"All general purpose dogs are licensed to operate and continually assessed so that should their behaviour fall below the required standard then their licence will be withdrawn," he said.
"Of the thousands of incidents which police dogs attend nationally, very few result in injuries to innocent people.
"Where this does occur the circumstances are investigated fully and compensation awarded where appropriate."