Killed in Afghanistan: Funeral of Capt Richard Holloway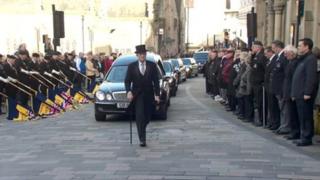 The funeral has taken place at Durham Cathedral of a soldier killed in Afghanistan two days before Christmas.
Captain Richard Holloway, of The Royal Engineers, was hit by enemy fire while on operations east of Kabul.
His family have described him as an "exceptional young man" who "embraced life to the full".
Capt Holloway, who was 29 and from County Durham, was the 447th British soldier to be killed since the war in Afghanistan began in 2001.
The number of military personnel in the country was reduced from 9,000 to around 5,200 in 2013.