Devon and Cornwall Police jobs at risk in force reviews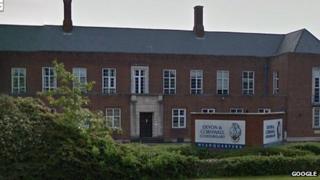 Further jobs cuts are expected in Devon and Cornwall Police as part of a review designed to help meet future budgets.
The force said no police stations would shut but it expected "more police front counters to close".
Reviews will focus on police enquiry offices, crime investigation, criminal justice, custody and firearms licensing.
The departments have been selected for review so the force will meet its budgets for 2014-2018.
Staff reduction 'inevitable'
Nigel Rabbitts, chairman of Devon and Cornwall Police Federation, said: "The force has already gone through a considerable reduction in staff.
"In general terms crime is reducing as a result of the hard work and visibility of staff and any reduction might have an impact."
Deputy Chief Constable Bill Skelly said: "Since roughly 80% of our overall budget spend is on people, it is inevitable there will be a reduction in police support staff posts.
"We would rather not make these sort of difficult decisions, but we must ensure we deliver the very best police service within the budgets we are given."
The review of the police enquiry offices is due to finish in May.
Supt Phil Kennedy said: "I know these decisions are not taken lightly and the chief officer group will do everything they can to minimise the impact on officers and staff.
"There will be a consultation period on completion of the review before any post reductions take place.
"No police stations are planned to close as part of this review - the stations will remain open for operational purposes - but we do expect more front counters to close in some areas."