Trapped and shot badger cull numbers criticised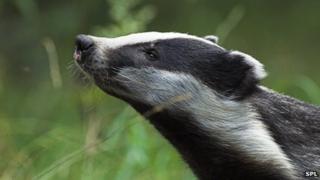 A wildlife charity has criticised the government's badger cull for the use of trapping and shooting methods, which it says were not part of its objectives.
Care for the Wild said only 24% of the total population of the two areas was killed by controlled shooting of free running badgers, in the initial trial.
That fell short of Defra's aim to cull 70% of Gloucestershire and Somerset's badgers with controlled shooting.
Defra said the group had used "misleading maths".
Culling techniques
The six-week culls in Gloucestershire and Somerset last year aimed to kill 70% of the badger population to test how effective, humane and safe a cull could be.
The target was based on studies which suggested that, in order to be effective in reducing the spread of TB among cattle herds, 70% of badgers in an area had to be culled..
The figures, relating to the culling techniques, were released by wildlife charity Care for the Wild following a Freedom of Information request.
They showed 360 badgers, out of an estimated 1,450 in the Somerset pilot area, were killed by controlled shooting in the original six-week cull period - with 490 badgers being trapped in cages and shot.
In west Gloucestershire, 543 badgers were killed through controlled shooting in six weeks - 23% of the 2,350-strong population - while 165 were cage-trapped and shot.
Dominic Dyer, from Care for the Wild, said: "They actually only managed to reduce 24% by that method. Any suggestion the culls were a success is therefore grossly misleading."
A Defra spokesman said both controlled shooting and cage trapping "were available techniques" and it was "for the cull companies to decide how each method was deployed".
He added: "Care for the Wild calculated the number of badgers free shot as a proportion of the estimated badger populations in Gloucestershire and Somerset.
"They are using misleading maths as the percentage of badgers free shot out of the total number culled during the pilots is much higher, well over half of the total."
In February, an independent panel of experts is due to report on the safety and effectiveness of the two pilots.