Half of Home Office 'unexpected' policing costs fund spent on conferences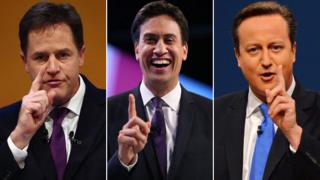 Nearly half the money given to police to cover "unexpected costs" - such as the search for April Jones and the Madeleine McCann investigation - was spent on policing party conferences.
In the past five years the Home Office has awarded £106m in "special grants".
However, £50m of this money was spent on policing party conferences.
With football clubs and music festivals having to contribute to policing costs, there have been calls for the three main political parties to do the same.
The grant is applied for by a police force in England and Wales when it encounters "unexpected or exceptional costs".
Figures obtained by the BBC through the Freedom of Information Act show the Home Office has distributed money for costs associated with policing the Royal Wedding, the Kingsnorth climate protest in Kent and the Dale Cregan trial.
Recently Sussex Police applied for money to cope with the anti-fracking protests in Balcombe over the summer.
But despite party conferences being planned yearly - and to some extent used to raise funds for political parties - they are not expected to contribute to policing costs.
The Conservative Party said its conferences produce a "significant amount of economic benefit" for the cities where they were held.
And the Labour Party said the decision not to charge was "made by the Home Office in conjunction with the local police force".
Jon Payne, who is a partner with legal firm Horsey Lightly Fynn and specialises in event licensing, said many music festivals and football clubs are forced to contribute without making much, or any money from events.
He said political parties should have to do the same.
"If it is the case that events organisers and football stadia have to pay for policing, then quite clearly political parties should do the same," he said.
"I have fought a number of hearings where police have more or less demanded a certain complement of officers to be in attendance.
"When you look at the cost of this it can mean that the event is not viable.
"The vast majority of events don't make lots of money, they are operating on some very fine margins."
According to guidelines from the Association of Chief Police Officers (ACPO), even charitable events can be charged for the policing of an event.
It states: "Some major events may require substantial policing and can generate large sums albeit for charitable distribution.
"A reasonable contribution towards police costs as a necessary part of the organisation of the event is both desirable and feasible."
Mr Payne added: "The argument for charging is that if you are doing something you wouldn't normally do, and it requires police, then you should pay.
"But is it out of the ordinary that a number of people will get together to listen to music or watch sport?
"We are social animals and this is normal behaviour. So it's quite a contentious issue."
However, according to Rob Ford, politics lecturer at the University of Manchester, the conferences are a "price we pay" for democracy.
"Labour and Conservatives struggle to get any money at all at the moment," he said.
"When you have a situation where they are already in a parlous state, to handicap them further is a bad idea.
"Their security needs are different, and they are an obvious terrorist target."
He added that although the set-piece speeches from the leading politicians attract the most attention, interest groups pay to hold stalls and events throughout the conference.
"I don't know if they make a profit, I suspect they do, but not a very large one," he said.
A spokeswoman for the Home Office said: "Special grants can be provided to police forces which have faced unexpected or exceptional costs, which can include political party conferences.
"Funding arrangements for these conferences is reviewed each year and the cost of policing them has fallen from £11.2m to £4.7m under this government.
"Events such as festivals, concerts and football matches often require special police services, which are paid for by the organisers, but any additional policing outside venues will be provided in the usual way."
A Conservative spokesman said neither his party or any of the others pay for policing.
He said: "We contribute a significant amount of economic benefit to the cities where our conferences are held.
"The contribution to Manchester in 2013 was £24.6m, and our conference in 2012 contributed £16.5m to Birmingham."
And a Labour Party Spokesperson said: "The Labour Party does not pay for conference security.
"It is a decision made by the Home Office in conjunction with the local police force and we are very happy to co-operate with them."
The Liberal Democrats were contacted by the BBC but have not provided a comment.