West Mercia and Warwickshire 999 control rooms 'could merge'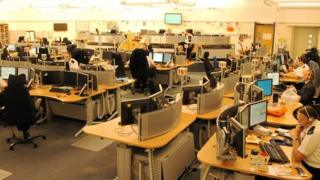 Plans have been revealed to merge police and fire control rooms serving Warwickshire, Shropshire, Herefordshire and Worcestershire.
West Mercia Police and Warwickshire Police have been given £2.4m by the government to look into the project.
The forces are in a strategic alliance and already share some resources.
West Mercia Police announced last year that its Shrewsbury control room would close in March 2015, with calls being taken at its base in Worcestershire.
The two police forces said they were in discussions with fire services for the four counties to "develop a contact management and command and control facility to allow more effective working as part of the wider blue light family".
Feasibility study
They said that they were yet to contact West Midlands Ambulance Service about the proposals.
West Mercia's Deputy Police and Crime Commissioner, Barrie Sheldon, said it was yet to be decided where the control room would be but that force's headquarters at Hindlip, near Worcester, would be a favoured location.
"There are considerable talks yet to take place between all the partners but who knows how they will develop, anything could happen over the next two years," he said.
Money to carry out a feasibility study into how the facility would work has been provided by the government's Police Innovation Fund.
More than £800,000 has been provided this year, with a further £1.6 million being given to both forces in 2014/15.