Sean Turner Bristol hospital death: 'High-dependency care needed'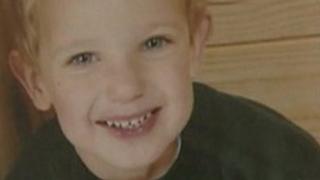 A four-year-old boy who died after major heart surgery should have received high-dependency care, an inquest has heard.
Sean Turner, from Wiltshire, died in March 2012 from a brain haemorrhage after suffering a cardiac arrest.
Six weeks earlier, he underwent vital corrective heart surgery at Bristol Children's Hospital.
At the time of his death, Ward 32 did not have a high-dependency unit and there were staffing level problems.
Independent expert Dr Duncan Macrae, a consultant in paediatric intensive care at the Royal Brompton Hospital, told the inquest Sean's needs were "relatively high".
"He needed high-dependency care, which I take to be one nurse to look after two patients," he said.
"I was not sure that's what he received on Ward 32 but that's what he should have received."
Avon Coroner Maria Voisin asked Dr Macrae whether the cardiac arrest was preventable, to which he replied: "I believe it was."
Dr Macrae said Sean's condition had been deteriorating from 12 February and he should have been seen by a cardiac consultant.
"If the right people had been there and asked the right questions he could have been moved to the paediatric intensive care unit," he said.
Sean underwent heart surgery on 25 January and was given the drug heparin to try and prevent blood clots.
He was moved from the hospital's paediatric intensive care unit to Ward 32 within 18 hours of surgery, but after suffering a collapse he was transferred back to intensive care.
On 9 February, he returned to Ward 32 where he remained until suffering the cardiac arrest on 16 February.
'Combination of complications'
At the time of Sean's death, the ward did not have a high-dependency unit - one level down from intensive care.
The inquest heard a blood clot had developed and Sean was given a clot-busting drug - which has the danger of causing bleeds - and it was this that caused the fatal bleed in Sean's brain.
Dr Macrae said that in his opinion Sean had died from a "combination of complications" following heart surgery.
Since Sean's death, a high-dependency unit has been created on the ward.
Sean's parents, Steve, 47, and Yolanda Turner, 45, from Warminster, claim their son's death was not isolated and other children with heart problems have died at the hospital, including seven-year-old heart patient Luke Jenkins, from Cardiff.
Up to 10 families are believed to be taking legal action against the University Hospitals Bristol NHS Foundation Trust.
The coroner is due to record her conclusion on Thursday.