Men rescued from motor cruiser fire off Plymouth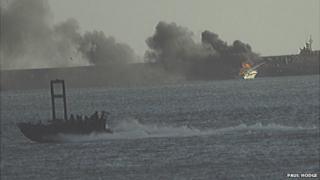 Three men were rescued after a motor cruiser caught fire off Plymouth.
Three men onboard the boat jumped into the water near Fort Picklecombe, off south-east Cornwall, and were rescued by Ministry of Defence (MoD) police who were patrolling nearby.
The fire, which severely damaged the 27ft (8m) cruiser, started after a "fuel problem", said a spokesman from Brixham Coastguard.
The men, including one who is in his 50s, were taken ashore uninjured.
The emergency services were alerted to the fire at about 14:50 GMT.