Moors Murderer Ian Brady breaks bones in Ashworth Hospital fall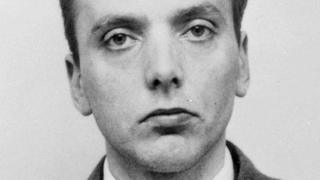 Moors Murderer Ian Brady has broken two bones in a fall at the Merseyside psychiatric hospital where he is held.
A spokesman for Mersey Care NHS Trust, which runs Ashworth Hospital in Maghull, said Brady, 76, was admitted to a "general hospital" on Tuesday.
The killer was returned to Ashworth on Wednesday but is now back in the general hospital.
Brady was jailed for three murders in 1966 and has been held at Ashworth since 1985.
A trust statement said: "The admission this morning will involve a review of his condition and any further treatment."
Brady and Myra Hindley, who died in prison in 2002, tortured and murdered five children in Greater Manchester between 1963 and 1965.
They were jailed for three of the murders and later confessed to the other two.
Brady has been on hunger strike in recent years, being force-fed daily to keep him alive.