William Roache trial: Star 'shocked by rape arrest'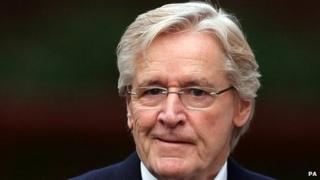 Coronation Street star William Roache told police he was "absolutely surprised" and "amazed" when he was first arrested, a jury has heard.
The actor appeared "visibly shocked and broke into a sweat" as he was detained on suspicion of rape, his trial heard.
During police interview, he said it was "against my nature, I'm a very peaceful person", Preston Crown Court was told.
Mr Roache, 81, from Wilmslow, Cheshire, denies two rapes and five indecent assaults between 1965 and 1971.
The charges relate to five women who were aged 16 and under between those dates.
Mr Roache, who plays Ken Barlow in the ITV soap, was arrested and cautioned at his home on 1 May last year.
He was then taken in an unmarked vehicle to a police station where the circumstances of the allegations were outlined.
The actor told officers he would "never do anything like that" and when the rape allegation was put to him said: "I totally deny that."
The jury heard Mr Roache told police he did not remember the girl who had accused him of raping her.
The court heard he told them: "It didn't happen because I'd remember it if it had."
Mr Roache told police he had "no recollection" of inviting the girl to his then house in Haslingden, Lancashire.
'Flirty comment'
The jury was told Mr Roache also denied having "any kind" of relationships with any girls during that period.
When asked in the police interview whether he could remember whether any young girls would "come on to you", the actor said women would but young girls were just "excited children".
Mr Roache said there may have been a "flirty comment" in getting an autograph "but not in a sustained way", the court heard.
Police asked Mr Roache why the woman may have made the allegation.
The court heard he said: "A lot of people are coming out and accusing celebrities of these things for various reasons."
He told police the woman may want a "moment of fame", adding there was "some hope of selling articles to the newspaper".
He also told police: "I was always polite and friendly with the viewers and people in the street. I have no idea why she would come up with this."
"I don't know what the motivation might be I'm absolutely horrified at the whole thing," Mr Roache said in the interview.
Mr Roache was interviewed by police again on 6 June over the indecent assault allegations.
The court heard he gave a handwritten prepared statement to police ahead of that meeting.
'Caring person'
Mr Roache said he had not recognised any of the women after being given photographs of them around the time of the claims.
He said: "I firmly deny that any such indecent assaults took place at all.
"The incidents as described do not reflect in any way my behaviour at the time."
He added he was a "very sensitive and caring person" who "always respected the wishes of other people".
"I would not dream of forcing myself on any other person," Mr Roache told police.
Mr Roache was asked about the nature of relationships between men and women in the 1960s and told officers "people could be far more tactile, not in a sexual way".
The actor told officers he had "never abused" his position and that he considered a "good name" to be important, the court heard.
During the course of the interview, Mr Roache was asked again why the women would make such allegations, some giving similar stories of what happened.
He replied: "Look, I can only conjecture, I can guess and make all sorts of comments, only they know. It didn't happen."
Mr Roache added: "I had plenty of very attractive, wonderful partners. I love women and I love making love to women but it has to be with their full co-operation and full enjoyment.
"Youngsters have no attraction to me at all."
"These allegations are not nice, not pleasant and I don't know why they have come forward," he added in the interview.
The jury previously heard one of the women alleged she was sexually propositioned by former Coronation Street actor Neville Buswell, who played Ray Langton.
She claimed it happened when he and Mr Roache got her passes into Granada studios in Manchester.
Lancashire police had contacted Mr Buswell, who was now an American resident and lived in Las Vegas, about the claims, the court heard.
He declined an invitation to come to the UK to speak about the allegations, the jury was told.
The trial continues.