Daniel Spargo-Mabbs: Two men in court over drugs death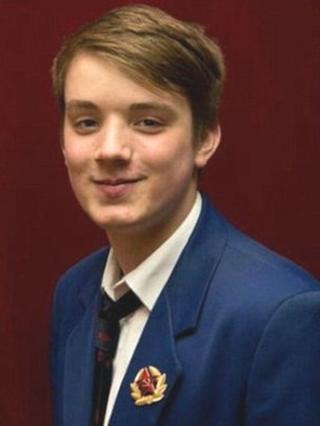 Two men have appeared in court charged with supplying Class A drugs following the death of a teenager who apparently took ecstasy at a rave.
Daniel Spargo-Mabbs, 16, was taken to hospital in the early hours of Saturday after becoming unconscious at a rave in Hayes, west London. He died on Monday.
At Uxbridge Magistrates' Court Nicqueel Pitrora, 18, of London Road, Croydon, and Ryan Kirk, 20, of Puffin Close, Beckenham, were remanded in custody.
They will next appear on 5 February.
Mr Pitrora is also charged possessing cannabis. The next court appearance for both men will take place at Isleworth Crown Court.
A third man, aged 19, who was also arrested, has been bailed until a date in late March, pending further investigation.
Daniel's mother Fiona Spargo-Mabbs told BBC London 94.9 that her son "knew all the statistics" about drug use because "they get all the talks at school - they have all the information".
"It's just that believing that could be you - that one in however many million - because it was," she added.
"There's going to be another one in however many million. But when you're 16 and a boy you think you're immortal."
Daniel's father Tim Spargo-Mabbs, 50, said: "We want to say to any child tempted to take any illegal drugs, talk to us first.
"We'll tell you about the machines, the hospital, the ventilator, the whole shebang.
"We don't want this to happen to anyone else."
Mrs Spargo-Mabbs said: "When they went off, I gave him a very big kiss and a hug and said, 'I love you', and he gave us a big hug back and said 'I love you. I promise I won't die'."
"I am so thankful that this is the last thing I said to him."
Daniel's parents said they had talked to him about drugs and told him "don't even try it".
"We thought he was in Clapham," Daniel's father said.
"We checked there were trains back and that he had enough money," his mother added.
Daniel was an A-Level pupil at Archbishop Tenison's Church of England High School in Croydon.
The Met Police said they were investigating the teenager's death after a suspected drugs overdose and were awaiting the results of a post-mortem examination.
PMA/PMMA have similar effects to ecstasy but are much stronger and more toxic.
It is thought PMA/PMMA may have become more prevalent following a crackdown on the chemicals needed to make ecstasy.