Amputee Atlantic rowing team finishes challenge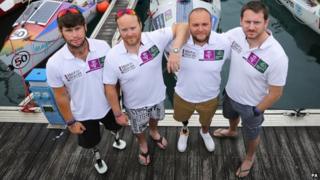 Four soldiers, two of whom lost limbs in Afghanistan, have completed a 3,000-mile rowing challenge to raise money for injured servicemen and women.
The Row2Recovery team was one of 16 that started the 4,800km Talisker Whisky Atlantic Challenge from the Canary Islands on 4 December.
Cayle Royce, Scott Blaney, James Kayll and Mark Jenkins are raising money for Help for Heroes.
They reached the finish in Antigua at about 22:00 GMT on Tuesday.
The team finished third behind the Locura Rows The Atlantic team, who finished on 14 January, and the Atlantic Pole team, who also completed the course on Tuesday.
The Row2Recovery team spent 48 days, nine hours and 13 minutes at sea and have so far raised more than £17,000.
Cpl Scott Blaney, 27, from Nuneaton, Warwickshire, had his right leg amputated above the knee after an IED blast in 2007.
Trooper Cayle Royce, also 27, from Dartmouth, Devon, lost both legs above the knee and several fingers on his left hand 18 months ago when he stepped on a landmine.
The men rowed with team leader Capt James Kayll, 34, from Milton Abbas, Dorset, and Capt Mark Jenkins, 34, from Brighton, a physiotherapy officer.
'Just humbling'
Crowds of people packed Antigua's historic English Harbour to welcome them, while members of the Antiguan coastguard also formed a guard of honour.
Tpr Royce said: "The crowd's reaction was just humbling.
"We had been told to expect a bit of a reception, but I was thinking it would be just a couple lads with an air horn.
"The public have been great, and my home community in Dartmouth too have been just so good."
Cpl Blaney, who was reunited with his fiance Amy Lee, said the team had battled through severe weather conditions as well as equipment failure.
"There are some low moments," he said.
"Obviously living in such a confined area, seeing the same faces every day, it can get a bit rubbish at times, but we were all so motivated, driven."
Toilet issues
Both Tpr Royce and Cpl Blaney left their prosthetic limbs on dry land to avoid causing damage to the joints with salt water.
They were given them back upon reaching the shore.
The crew had to live on a diet of mostly freeze-dried food but most of it was lost when they capsized on 18 December.
The men declined the offer of emergency supplies from a passing ship to comply strictly with competition rules.
Capt Jenkins said hygiene was "tricky to maintain".
"We had to wash with wet wipes and obviously there was the issue of going to the toilet," he said.
"We started off very British, you know, trying to be discrete but after two weeks or so someone just said, don't worry about it, we have to do it in front of each other.
"To be honest I'm looking forward to going to the toilet without two people eyeballing me and having to chuck it over the side of a boat after."