Pensioner rapist Wendell Baker has minimum sentence reduced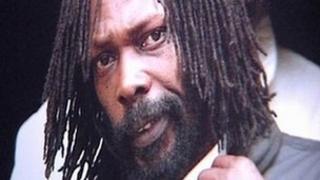 A man jailed for life last year after being convicted of raping a pensioner in her bedroom in 1997 has won a two-year reduction in his minimum term.
Wendell Baker was sentenced to a minimum of 10 years and six months last year at the Old Bailey.
The Court of Appeal in London has reduced his minimum term by two years.
Mr Justice Simon said: "He will, of course, only be released when it is safe to do so."
Three judges at the Court of Appeal ruled a life sentence was justified, but reduced his minimum term to eight years and six months.
That is the period he must serve behind bars before becoming eligible to apply for parole.
Double jeopardy
During the court case it was heard that Baker beat and raped 66-year-old Hazel Backwell before locking her in a cupboard at her home in Stratford, east London, in 1997.
Ms Backwell was found by chance by a neighbour the following evening.
The attack left her too afraid to continue living alone or go out by herself and she "died with a very sad and broken heart", her family said. She died in 2002.
At the trial, Judge Rook said: "It seems to me it's difficult to find a case of more serious rape during the course of a burglary, short of where the victim is either killed or caused very serious harm."
Baker was arrested in October 1998 on suspicion of rape and provided a DNA sample which matched the DNA profile of swabs taken from Ms Backwell.
But he walked free from court after a judge decided the case could not proceed following legal argument at the start of the original trial in 1999.
The introduction of the double jeopardy law in 2005 allowed a person cleared of a serious offence to face a retrial in certain circumstances, but when the case was reviewed in 2007, it was found that much of the evidence had been lost or destroyed.
The case was reopened in 2009 and Baker, from Walthamstow, north-east London, was arrested in 2011.
He gave further DNA samples matching those found on swabs taken from Ms Backwell with a probability "in the order of one in a billion" linking him to the case, the court heard.
Following the trial Ms Backwell's son David said: "My mother felt as if she had been raped a second time when Wendell Baker was first acquitted.
"My mother suffered and it saddens me that she is not here to witness this momentous day."
Jamaican-born Baker denied raping Ms Backwell, telling the court he had been framed by police, who he claimed had hounded him for years.