Regimental colours are laid to rest 'but never dead'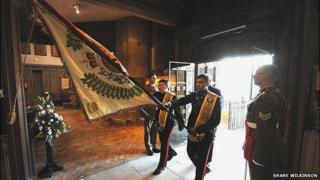 The West Midlands Regiment has bid goodbye to its colours, laid them to rest in church, and will now embark on the future under new ones. Although to a layperson's eye they are merely flags, the piece of fabric has a deeper significance than just an emblem. But why?
Lt Deepe Rawji of 4th Battalion the Mercian Regiment (4 Mercian) said: "If the officers and men of a regiment form the body, the colours are the traditions, the memories and the soul."
The West Midlands Regiment combined with two others to form 4 Mercian, which until now, had used the West Midlands colours.
But 4 Mercian was awarded new ones of its own by the Prince of Wales - so the West Midlands colours have been laid to rest at St Peter's Collegiate Church in Wolverhampton.
L/Cpl Johnny Evans, formerly of the Royal Engineers, said: "Colours literally go through all the same experiences as us - on active service, it's always with us.
"The desert sun that beat down on us can be seen in bleaching (on the flag), the rain in a stain.
"It represents our hardships, our efforts, and everything we stand for."
WO Jimmy Garstang of 4 Mercian and formerly of West Midlands, said:
"Us all being under the same colours will make a difference I think.
"We're a young unit and our traditions are not universal.
"But this should be unifying and bonding."
Carrying colours has its roots in Medieval chivalry when family insignia were placed on banners so they could be seen well above the melee of battle.
They began to be used as a record of acts of bravery, and represented the essence of an army to the extent that standard bearers were targeted by the enemy as a way of destroying morale, said military historian Bryan Evans.
"After the Boer War, the weaponry had developed so much that picking out the man holding the colours was much easier.
"In following campaigns colours were not taken into battle because the bearer had such a short life expectancy," he added.
Even now, he said, in most modern armies orders call for the colours to be intentionally destroyed if they are ever in danger of being captured by the enemy.
Emotional response to colours is not always positive.
A card sent to his family from Pte Bill Norris fighting in France in World War Two reads: "To Mam, Dad and Joan. I am sorry I have not writ before now but it was to noisy but now we are in Billetts.
"I am very glad to be in billets for some peace and quite but I had a bad dream in the night that I saw the colours in the distence beckoning like and I had a fright.
"We are meant to be proud and that of colours but I hate them.
"Right, I must clean my eqipment now, so cheerio. Love to all. Bill."
'Ultimate brand identity'
Colours are consecrated before being taken into use, and after service are laid up in a sacred or public buildings, "which helps to maintain the atmosphere of veneration," said Mr Evans.
WO Garstang, who served in Iraq and Northern Ireland, said he was sad to see his colours laid to rest, but he was also proud.
"The only place to see the West Midlands Colours now will be in a church," he said.
"And that's the right place for them because they are blessed.
"We can look forward with optimism."
Advertising expert Abigail Mulcahy said the feeling triggered by colours is "the ultimate brand identity".
Although there were very sensible reasons for needing to recognise each other in a conflict, the brand identity became something more, Mrs Mulcahy added.
"Every regiment develops its own set of values critical to their success - courage, efficiency, fierceness, etc." she said.
"They also bolster the sense of common purpose, pride and loyalty, all of which are needed on the battlefield."
"It is an emotional narrative; the holy grail for brand managers," she added.
Lt Col Chris Carter, Commanding Officer of 4 Mercian, said: "Laying the colours to rest was an emotional process. It is the spirit which binds us all together.
"It's a permanent memorial of sacrifices made, not just by the soldiers, but the friends and families of servicemen."
Lt Rawji said: "God forbid if colours should ever go missing - it is all our sacrifices, the injured, the lost and the still serving.
"Although it has been laid to rest, it will never be dead, the soul is still there.
"And parts of our souls, the regiment's souls, they are all there."