Screen Yorkshire wins funding to boost 'filmmaking surge'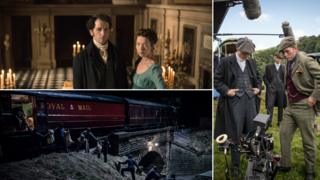 An investment fund used to bring TV, film and game projects to Yorkshire has secured an extra £7.5m from the European Regional Development Fund.
Screen Yorkshire said there had been a "real surge in filmmaking" in the region over the past two years.
The organisation said it hoped the money would help attract more projects such as Peaky Blinders, Death Comes to Pemberley and Get Santa.
Private investors will match the fund on a project-by-project basis.
Screen Yorkshire chief executive Sally Joynson said: "Two years ago we launched the Yorkshire Content Fund with an initial grant [of £7.5m] from Europe and it's been so successful that we've now been awarded this top-up grant.
"That's really in recognition of the fact that the region and Screen Yorkshire has managed to create some ideal conditions which have led to a real surge in filmmaking here.
"The whole point of this fund is demonstrating that you don't have to be based in London to build a successful career in filmmaking."
Screen Yorkshire's investments include TV dramas The Great Train Robbery and Jamaica Inn, which were partly filmed on location in Yorkshire.