Atlantic race: Polo players finish 'epic' 48-day row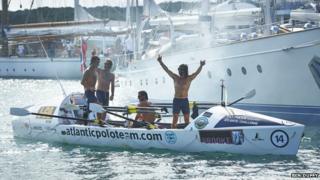 A team of polo players who have spent 48 days rowing across the Atlantic have described it as an "epic" journey.
The Atlantic Polo Team was the second to reach land, but the first four-man crew, in the 3,000-nautical-mile race from the Canary Islands to Antigua.
Gloucestershire-based Bobby Dundas, who captained the team, said they had "been through hell and back".
The Row 2 Recovery team of British servicemen, two of whom lost limbs in Afghanistan, lies in third place.
During the charity endurance race, no outside support was allowed and no extra supplies such as food and water were given to the teams.
The Atlantic Polo Team began the crossing on 4 December alongside 16 other teams from around the world.
Since then they have survived storms, 40-foot (12m) waves, being locked in an airtight cabin for 70 hours, fevers and having two men overboard.
Mr Dundas, 29, who lives in Wiltshire but plays polo in Gloucestershire, said: "The Talisker Whisky Atlantic Challenge is something we feel extremely privileged to have experienced, yet would not have wished upon our worst enemies - we have been through hell and back again out there.
"Most did not expect us to even get to the start line, we are delighted to have won the fours and be second out of the entire fleet - this whole journey has been epic."
Sharing the 21ft (7m) boat with Mr Dundas was 38-year-old Henry Brett from Oxfordshire, a former England Polo Team captain; James Glasson, 39, from Sussex and Fergus Scholes, 31, from Dorset.
They have been using their efforts to raise funds for three charities - the Brooke, Hilton in the Community Foundation and Right To Play.