West Yorkshire Police probed over Hamzah Khan death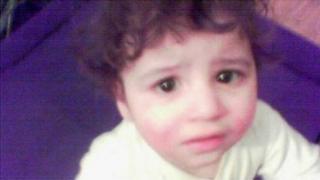 The police watchdog is to investigate officers' handling of concerns raised about a boy found starved to death at home almost two years after he died.
Allegations of neglect had been made to West Yorkshire Police before four-year-old Hamzah Khan's body was found in Bradford in 2011.
His mother Amanda Hutton was jailed for manslaughter in October.
The Independent Police Complaints Commission (IPCC) said it would examine what action the force took.
The watchdog said it contacted West Yorkshire Police after Hutton was jailed to ask about complaints the force had received.
IPCC commissioner Cindy Butts said: "The death of Hamzah Khan was a truly shocking example of the most cruel neglect imaginable and at the heart of it lies the loss of a young life.
"Our investigation will examine what action West Yorkshire Police took and also why the contact was not referred to us in 2011."
Det Ch Supt Andy Brennan said: "West Yorkshire Police referred this matter to the IPCC in November last year and they have decided this will be an independent investigation which we will fully support and assist in any way we can."
Gross negligence
Hamzah's mummified remains were found in squalid conditions at his home 21 months after he died of severe malnutrition.
During his mother's trial Bradford Crown Court heard he probably died from malnutrition because Hutton neglected him as she concentrated on her alcohol addiction.
Hutton was jailed for 15 years after being convicted of his manslaughter by gross negligence. She also admitted preventing the burial of his body and the neglect of her five other young children.
Her eldest son, Tariq Khan, 24, also admitted preventing Hamzah's burial and received a two-year jail sentence, suspended for two years.
A serious case review found police had made a number of visits to the house in the years before Hamzah's death in December 2009 to investigate reports of domestic violence but officers had been satisfied with the condition of the children and the home.
The four-year-old's body was eventually found after a police community support officer called at the house to deal with a complaint about soiled nappies being thrown in a neighbour's garden in September 2011.
Following the trial West Yorkshire Police said there had clearly been a "significant deterioration" in Hutton's ability to care for her children since officers had last visited the house in April 2009, eight months before Hamzah's death.