USAF helicopter crash: Cley Marshes reserve reopens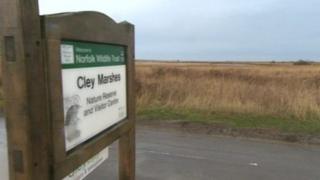 The nature reserve where four US Air Force crew were killed in a helicopter crash has reopened to the public.
Norfolk Wildlife Trust's Cley Marshes was sealed off after the HH-60G Pave Hawk helicopter crashed on a training mission on 7 January.
Wreckage from the helicopter, including live bullets, was strewn across part of the reserve, near Wells-next-the-Sea.
The immediate crash site remains fenced off but the rest of the reserve is now open to visitors.
Capt Christopher Stover, Capt Sean Ruane, Technical Sgt Dale Mathews and Staff Sgt Afton Ponce, based at RAF Lakenheath in Suffolk, were killed in the crash.
Their bodies have been flown to the United States.
Bernard Bishop, warden at the reserve, said: "The accident has left a tragic memory.
"It's something that will heal itself. Every time I walk past the site I remember the four air crew, but give it a few months and people will start to come and we will be back to normal."
Investigations into the cause of the crash continue.