Amputee Atlantic rowing team nears finishing line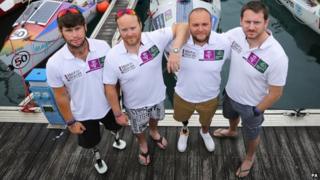 Four soldiers, two of whom lost limbs in Afghanistan, are nearing the end of a 3,000-mile rowing challenge to raise money for injured servicemen and women.
The Row2Recovery team is among 16 that started the 4,800km Talisker Whisky Atlantic Challenge from the Canary Islands on 4 December.
Cayle Royce, Scott Blaney, James Kayll and Mark Jenkins are raising money for Help for Heroes.
They are expected to reach the finish in Antigua early next week.
Cpl Blaney, 27, from Nuneaton, Warwickshire, lost his right leg in an IED blast in 2007.
Trooper Royce, also 27, from Dartmouth, Devon, lost both legs above the knee and several fingers on his left hand 18 months ago when he stepped on an IED.
The men are rowing with able-bodied team leader Capt James Kayll, 34, from Milton Abbas, Dorset and Capt Mark Jenkins, 34, from Brighton, a physiotherapy officer.
Limbs left behind
The Atlantic challenge forces competitors to overcome such obstacles as high seas and extreme sleep deprivation.
Cpl Blaney and Tpr Royce had to leave their prosthetic limbs on dry land, to avoid causing further damage to the joints.
The team's families will meet them in Antigua, where they will also be reunited with their prosthetic limbs.
Amy Lee, from Warwickshire, fiancee of Cpl Blaney, said: "Scott's an above-the-knee amputee and also has blast wounds to his right elbow, but he can't wear the leg on the boat because salt gets into it and due to losing weight.
"It's difficult for him to get around the boat so he has to go around on his bum, which is not ideal."
Tpr Royce's mother Bronwyn said: "He always had an adventurous spirit and I'm glad it hasn't stopped."
Another team competing in the challenge, the Atlantic Splash crew from Kent, Sussex and Essex, were five days into the race when their boat, Atlantic Mission, was damaged in a storm.
They were airlifted to safety but their vessel was lost.