South East Brownies celebrate 100th birthday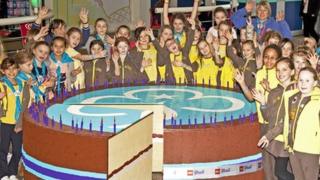 Some 3,000 Brownies are in West Sussex to begin a year of celebrations to mark the 100th anniversary of the movement formed by Lord Baden-Powell.
The girls aged seven to 10, from across the South East, are spending the weekend at Butlins in Bognor Regis.
Guide leader Jennifer Sibley from 3rd Strood Guides, Kent, said it was like a giant sleepover.
"I don't think many of them slept last night - they are all so excited," she said.
The weekend is one of the first celebrations for the centenary.
The Brownie section of Girlguiding was started in 1914 at a time when women did not have the right to vote.
"Girls' lives have changed massively since then and Brownies has changed with it," said Chief Guide Gill Slocombe.
An 8ft-wide (2.4m) birthday cake with 100 candles has been built for the celebration using 55,000 Lego bricks.
"I think they are all really enjoying themselves - lots of girls are having their photographs taken with the cake," said Ms Sibley.