Liam Culverhouse jailed over Khloe Abrams death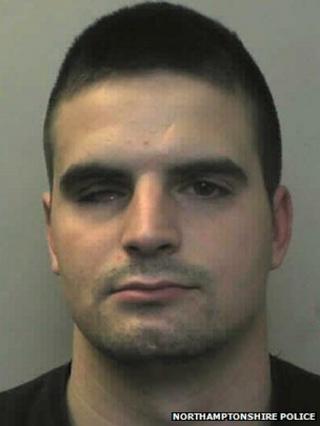 A former soldier has been jailed for six years over the death of his 19-month-old daughter in Northampton.
Liam Culverhouse, 25, was sentenced at Northampton Crown Court after admitting causing or allowing the death of Khloe Abrams.
He once played dead to survive an attack in Afghanistan in 2009, which killed five of his British colleagues.
His daughter died in a hospice in November 2012 after being assaulted.
The court heard Khloe was admitted to hospital in May 2011, a few months after Grenadier Guardsman Culverhouse was medically discharged from the Army.
She spent more than a year in hospital and was being cared for in a hospice before she died of pneumonia, which was brought on by injuries she suffered when she was seven weeks old.
She sustained severe brain damage and fractures to her skull, ribs and limbs.
'Health teams failed'
Culverhouse suffered from Post Traumatic Stress Disorder (PTSD) after being blinded in one eye in an attack in Helmand province on 3 November 2009.
Then a lance corporal, he was shot in the face, arms and legs with an AK-47 machine gun at checkpoint Blue 25.
Five other British soldiers were shot dead, six were injured and two Afghan policemen were wounded.
The court heard that Culverhouse had failed to attend his last appointment to treat his PTSD in 2010 and was eventually discharged from medical care three months before Khloe was assaulted.
David Howell, defending Culverhouse, told the court: "This is a man who has fallen between two stools. He didn't have any further care on the mental health side which made it difficult for him to cope.
"Mental health teams failed, the correct procedures have been missed."
'Had a temper'
Sentencing Culverhouse, Judge Jeremy Baker said it was clear he had been suffering from PTSD following his ordeal, but that did not diminish the fact he had caused the death of his daughter.
He said: "No-one who has understood what happened to you in November 2009 whilst serving as a member of the British Army in Afghanistan can have anything but profound sympathy for the effect which it had upon you.
"I accept that the effects of your mental condition contributed to your treatment of your daughter.
"However, you acknowledged to police and others that prior to your experiences in Afghanistan you had always had a temper which manifested itself in other circumstances."
Det Ch Insp Steve Woliter of Northamptonshire Police, said: "The death of any child is a tragedy, but this is one more so because of the fact that the person responsible for looking after her failed her in the most profound way."
He added that a Serious Case Review by the Local Safeguarding Children Board Northamptonshire will be published in due course.