Conmen jailed for £5m pensioner investment fraud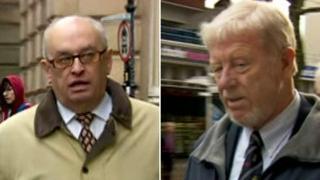 Two conmen who defrauded 128 pensioners out of £5m after "promising the earth" have been jailed at Preston Crown Court.
Terry Warrington, 67, of Morecambe, was jailed for four-and-a-half years after admitting fraudulent trading, theft and operating while unregulated.
Malcolm Barber, 70, of Wallasey, Merseyside, was jailed for four years.
He denied four fraudulent trading charges and operating while unregulated, but was convicted in 2013.
Det Supt Jason Hudson, from the Titan regional organised crime unit, said they "promised the earth to people, but delivered very little".
The pair jointly ran financial companies Gentry (IT) Ltd and Dublin (CF) Ltd from offices in Wallasey and Morecambe. They pledged to provide complete security from invested funds.
'Heartache and devastation'
Instead they took cash from investors in bonds and then loaned it out to high-risk borrowers, and the investors lost their money.
Det Supt Hudson said the investors were often people in later life "who wanted to make the money that they had earned from a lifetime of hard work and financial prudence last a little bit longer".
He said despite having a £2m black hole in their finances and being insolvent, the conmen continued to convince people into handing over more cash on the promise of returns that were not possible.
"Both men are responsible for a great deal of heartache and devastation," he added.
Victim Susan Waugh, from Wallasey, Merseyside, told the BBC the pair had "taken away" her trust in people, her happiness and her peace of mind.
Tracey Ames, senior district prosecutor from the Regional Asset Recovery Team, said the victims all trusted the men who "used the money invested in their companies in a variety of ways".
She said: "As a result of their deceitful actions, many of the victims lost their life savings."