Louisa Ravouvou, 10, awarded £5m after hospital errors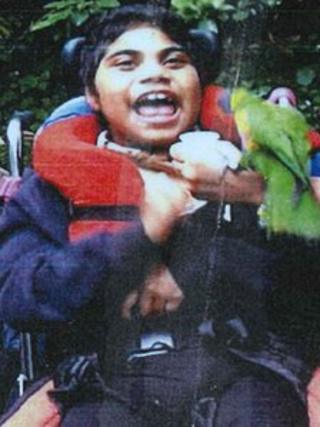 A 10-year-old girl has been awarded £5m in a High Court ruling, after hospital errors left her disabled.
Louisa Ravouvou suffered brain damage in 2003 after hospital staff failed to respond to a bleed on her brain while she was in the womb.
Shortly after she was born staff then failed to give her a blood transfusion.
Oxford University Hospitals NHS Trust and Great Western Hospitals NHS Foundation Trust had admitted breaches of their duty of care were to blame.
Louisa's mother was admitted to the John Radcliffe Hospital for a week in October 2003, where staff failed to respond appropriately to the bleed, according to the family's solicitor Sue Jarvis.
She was then transferred to the Great Western Hospital because there were no special care beds at the unit in Oxford.
'Catastrophic brain damage'
Staff at Great Western were advised that Louisa was likely to be anaemic.
However, Ms Jarvis, of Blake Lapthorn solicitors, said the Great Western failed to make "appropriate arrangements" for Louisa to receive a blood transfusion within half an hour of delivery.
As a result of the failures, Louisa collapsed soon after birth and suffered what has been described as "catastrophic brain damage".
Ms Jarvis said when proceedings were issued, both trusts admitted breaches of duty of care "in failing to recognise and respond appropriately to the anaemia".
However, she added both denied the bleed was responsible for Louisa's disabilities until May 2012, shortly before the case was listed for trial.
In two separate statements, both trusts said they had admitted liability and apologised for the identified failings in care prior to Louisa's birth.
Each said it hoped the settlement would assist her.
Ms Jarvis said Louisa had a "much reduced life expectancy" but added the settlement would ensure she received "specialist accommodation" and 24-hour care.