Ministry DNA sample search from WW1 soldier's relatives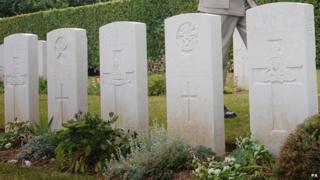 The living relatives of a World War One soldier whose remains were discovered in northern France are being sought by the Ministry of Defence (MoD).
The body, found in a private garden near Beaurains in June 2012, is thought to be one of four officers from the Oxford and Buckinghamshire Light Infantry who died in 1917.
It is believed to be either William Haynes or Charles Harper from Buckinghamshire, Stanley Ashman from Weston-super-Mare or John Bulmer from Yorkshire.
The department wants to involve any relatives in a reburial ceremony.
The remains were discovered following heavy rainfall which uncovered a shallow grave.
DNA hope
All four officers, who died on 3 May 1917, are commemorated on the Arras memorial.
The MoD hopes to discover which soldier it is by finding relatives who might be able to provide a DNA sample.
Lt Stanley Ashman was the son of Alfred and Annie Ashman of South Field, Radstock and had five brothers.
It is understood he lived with his wife Minnie and son in Moorland Road, Weston, and his son may have died in 1991.
John Legge Bulmer was a 2nd Lt in the 4th battalion attached to the 5th.
The son of the Rev Edward and Elizabeth Bulmer of Brooklands, Filey, he had four brothers and a sister, Edward, Philip, Charles, Reginald and Frances.
He was head boy of Marlborough College in 1913 and later studied at Merton College, Oxford.
Charles Croke Harper was a 2nd Lt in the 3rd Battalion attached to 5th Battalion.
Licensed victualler
Born in 1880, he was the son of the Rev E J and Frances Wetherall Harper of Broughton Rectory, Newport Pagnell, and had two brothers, Francis and Lionel and four sisters, Margaret, Mabel, Constance and Grace.
William Charles Haynes, from Aylesbury, was also a 2nd Lt, who served with D Company 5th Battalion.
It is known he was born in 1889, the son of licensed victualler Henry Haynes and his wife Elizabeth and had two brothers, Horace and James, and three sisters, Agnes, Florence and Connie.
He worked at the Dominion Dairy Company in the town before joining the Buckinghamshire Yeomanry and was commissioned into the Oxford and Buckinghamshire Light Infantry in January 1917.
The MoD said when the remains of British services personnel are discovered on historical battlefields it tries to identify surviving relatives so they can be involved in the subsequent re-interment and memorial service.