Alan Giles: Six months for killer's Hewell prison flee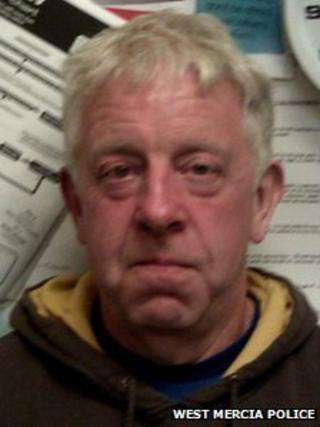 A convicted killer who absconded from prison has been given an additional six-month sentence.
Alan Giles, 56, is serving two life sentences at HMP Hewell in Worcestershire for the kidnap and murder of a 16-year-old boy in 1995.
At Worcester Crown Court on Thursday, Giles admitted escaping from lawful custody when he absconded from an open part of the prison, near Redditch, on 28 October 2013.
His sentences will run concurrently.
Following his escape, about 50 officers worked on the investigation to find him.
Police said they received more than 100 potential sightings of Giles.
'Community concern'
Det Insp Stephen Tonks, of West Mercia Police, said he was grateful to the people who reported sightings.
"During the nine days or so that Giles was missing there was a great deal of concern in the community, particularly in north Worcestershire where the prison is and in Warwickshire where most of the sightings were," he added.
Giles was arrested in Alcester on 6 November after a school cleaner recognised him from an appeal picture.
Police said he had been living rough whilst on the run.
He was jailed in 1997 for the kidnap and murder of 16-year-old Quinton student Kevin Ricketts and would have been eligible for consideration for parole this year.