Understanding who qualifies for help with fuel bills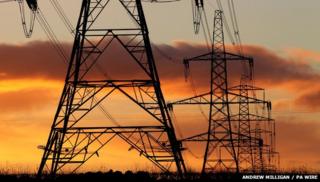 With the way fuel bills are these days there can't be many of us who don't think twice about switching the heating on as temperatures drop.
On Inside Out this week we're looking at the energy efficiency of our homes, top tips on how we can help ourselves to save power, and what discounts are available to those of us on lower incomes.
I toured County Durham with an infra-red camera to spot heat loss in typical homes.
On the doorstep it was striking how few residents in the worst affected houses were aware they might qualify for £135 off their bills.
Although the Warm Homes Discount is a national scheme, backed by the government, word clearly hadn't filtered down.
The problem is whilst some people qualify automatically, others have to apply.
On top of that it's down to the individual energy companies to promote the scheme amongst their customers, as they're the ones sending out the bills.
The eligibility rules are rather complex and the energy suppliers may well not know which of their customers are entitled.
Only one of the big six suppliers was able to provide us with an estimate of how many of their eligible customers were receiving it.
Npower believes 6,500 to 9,500 of its customers in County Durham could apply but only around 1,000 have.
One can assume the other suppliers have a similar low take-up.
All of which means people in the same type of house, with the same family circumstances, in the same street, might not all be receiving the £135 that, in cash-strapped times, could make a real difference.
So are you eligible or not?
Here is a quick guide:
You automatically qualify if you can pass these hurdles:
Your supplier has to be part of the scheme (the big ones are)
AND your (or your partner's) name has to be on the bill
AND you are 75 or over (and receiving the Guarantee Credit element of Pension Credit)
OR you are under 75 and are only getting the Guarantee Credit element of Pension Credit (if you also receive Savings Credit, you won't qualify)
Other people on low incomes can apply depending on their circumstances.
Each supplier has its own rules so you'll need to check with them.
You must apply by March 2014. Further assistance is available on the Warm Homes Discount scheme helpline - telephone 0845 603 9439
The full rules can be found on the government's Warm Homes Discount website.
Inside Out can be seen on Monday, 20 January 2013 at 19:30 GMT on BBC One in the North East & Cumbria and nationwide for seven days on the BBC iPlayer.