William Roache 'raped girl in his Lancashire homes', jury hears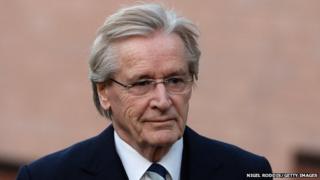 A woman said Coronation Street star William Roache "pushed her on to a bed" and was "cold and calculated" as he raped her, a jury has heard.
The woman, now 62, said the alleged rapes took place in his two homes in Haslingden, Lancashire, Preston Crown Court heard.
Mr Roache, 81, from Wilmslow, Cheshire, denies two counts of raping a 15-year-old girl in 1967.
He also denies five counts of indecent assault involving four girls.
Those alleged offences involve girls aged 16 or under in Manchester between 1965 and 1971, the court heard.
'Panic stricken'
The jury was shown a video of the alleged rape victim's police interview from March 2013.
In it she told police the actor took her into a bedroom of a bungalow he owned when she was a teenager.
She said: "I was shocked. There was no warning... I didn't know what to do.
"I can just remember thinking 'God, I just want to get out of here. I didn't know what to make of it, I was just so scared'."
She described the first alleged rape as "cold and calculated".
The woman said: "I didn't fight, but I couldn't push him off.
"He was too heavy for me... It was very uncomfortable but at the time I was just panic stricken.
"I just wanted to get up. I just wanted to go home... It was very painful. He was lying on top of me he was a lot bigger than me.. I just thought I was never going to get out.
"I thought it was never going to finish," she added.
Mr Roache was given permission to leave the dock and sit next to his lawyer while the recording was played in court so he could view it.
The woman said: "I thought it must be my fault. I didn't know why it had happened. I'd gone round there in all innocence."
'Gullible'
She went on to describe a second rape "a few months" after the first, which she alleges took place at a different cottage in Haslingden owned by Mr Roache .
The woman said the actor had invited her into his home.
"Before I knew it I had been grabbed again," she said.
She said the television star pushed her up against a wall as she thought: "Oh God, I can't believe this."
The court heard her say she should not have gone to his home on the second occasion.
"I thought I was to blame, especially the second time," she said.
"I was gullible, I was a kid. I would never have repeated it to anyone."
When asked by the police officer to describe her allegations, the woman said: "I don't know if you called it rape in them days because I was not pinned down. I was sexually abused."
'Frightened and disgusted'
The woman came forward in the wake of a number of celebrity sex scandals, the jury heard.
She said: "It has started to bother me because there might be other people that this has happened to."
The woman told the female officer she had spoken to her son about the now disgraced Jimmy Savile and later revelations about Sir Cyril Smith.
She told her son "in those days you didn't talk about things like that... I know things like this happen because I have been in a position like this."
When asked by the police interviewer why she had not told anyone about the alleged abuse, she replied: "I didn't think I'd be believed."
Later in the recording, she said: "It has eaten away at me. It is on the media all the time.
"I now realise what happened to me was not an isolated incident.
"I thought it had to be my fault ... I was ashamed, frightened and disgusted, to be quite honest."
'Fancied himself'
The woman said she did not see Mr Roache again until the late 1970s when she was a young mother in a baby show at a local carnival.
She claims he walked past at her and said: "Oh hello, I know you don't I ?"
"It upset me a little bit because I didn't know he was a judge that day," she said.
The woman said that was the last time she had seen him.
The officer asked if he was "fanciable as a celebrity" and the woman replied "possibly he fancied himself".
She was then asked "Did you fancy him?" to which she answered: "No, he was not my age. I fancied local boys who I was in school with."
The trial continues.