Man handed animal ban over monkey cruelty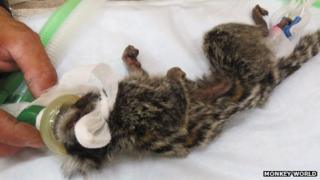 A man has been banned from keeping animals for life after a South American monkey was found captive in a birdcage.
Milo the marmoset was malnourished and kept in the bedroom of Richard Walton, 32, of Whitgift Close, Basingstoke.
Dr Alison Cronin from Monkey World in Dorset, where Milo was taken to, said his treatment had been "appalling".
Walton had earlier pleaded guilty to animal welfare charges. He was also given a nine-month community order at Basingstoke Magistrates' Court.
Miserable life
He was also ordered to pay £160 in costs.
Speaking after the sentencing, RSPCA inspector Jan Edwards said: "Marmosets are active and social animals which normally live in stable family groups, so to keep them in a cage alone like this can cause a huge amount of stress.
"In short Milo had a miserable life which compromised his welfare."
RSPCA inspectors discovered Milo in May after Walton was spotted with the marmoset on a lead on his shoulder at a local pub.
Milo is recovering well at Monkey World, but Dr Cronin said he was "one of the lucky ones".
"Sadly many monkeys suffer a similar fate in the British pet trade today," she said.
The RSPCA is calling for a ban on keeping primates as pets.
Currently it is legal to own a primate in Britain.
Most species require a Dangerous Wild Animal Act licence, but the RSPCA said that "many owners appear to ignore this".