Bob Goold inquest: Concern over end-of-care decision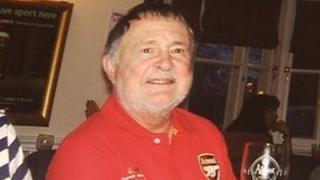 A coroner has said he is concerned about a lack of formal decision making over the ending of a man's care in the days before his death.
Bob Goold was in intensive care following a fall when food and fluids were stopped at Addenbrooke's Hospital.
He died more than a week after being placed on the Liverpool Care Pathway (LCP), in February 2013.
Coroner William Morris said the authorisation to begin the LCP was a "grey area".
Mr Goold's daughter, Susan Phillips, told the inquest the hospital had said end-of-life care was for the best for her father, but the family had not given permission for it to begin.
She described his last days as "horrendous".
Communication 'poor'
The inquest in Huntingdon heard Mr Goold, of Stevenage, Hertfordshire, suffered severe head injuries in the fall and had Alzheimer's, both of which contributed to his death.
His cause of death, however, was bronchial pneumonia, following the withdrawal of active treatment.
Consultant neurosurgeon Prof Peter Hutchinson, who oversaw Mr Goold's care, said a "blunt" conversation about final care had not taken place with the family, but it was unlikely his patient would have recovered.
Dr Jonathan Coles, who was in charge of the intensive care unit, said the hospital had specifically not mentioned LCP.
Dr Jess Welburn, who had signed an end-of-care form, said the authorisation had come from Prof Hutchinson and Dr Coles.
The inquest heard from the hospital that the care of Mr Goold was appropriate and right, but communication with his family was poor.
The inquest was adjourned until 28 January.