Coronation Street's William Roache 'urged girl to write back'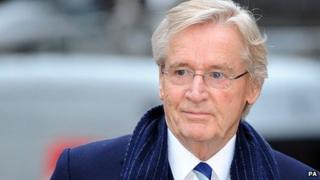 William Roache wrote to a 14-year-old girl he indecently assaulted saying "write to me when you start school again, love Bill", a court was told.
Giving evidence at Preston Crown Court, the woman, now 63, said her contact with the Coronation Street actor felt like a "relationship".
Mr Roache, 81, from Wilmslow, Cheshire, denies two counts of raping a 15-year-old girl in East Lancashire in 1967.
He also denies five counts of indecent assault involving four girls.
Those alleged offences involve girls aged 16 or under in Manchester between 1965 and 1971, the court heard.
'Went exploring'
The complainant told the court Mr Roache forced her to perform a sex act on him in the gents' toilets at Granada Studios in Manchester in the summer of 1965.
She had visited the studios with a friend to take part in a children's talent show, the jury heard.
The woman said following her performance she and her friend "went exploring" within the building.
She said she spotted a Coronation Street actor and later ended up in Mr Roache's dressing room.
At one point she and Mr Roache left the dressing room, she said, and he pulled her "roughly" by the arm in the direction of a men's toilet.
She told the court Mr Roache took her hand and indecently assaulted her.
The complainant said: "I was shocked and I didn't really understand what was going on, but the one thing I thoroughly understood was that I should not have been in the gents."
'Flattered by attention'
The complainant said that a few weeks after the assault she received the letter, which read: "Thank you for your marvellous letter and the nice things you said in it.
"I am enclosing a photo which I hope you like. I am away for three weeks now but I would like a letter from you waiting for me when I get back.
"Write to me when you start school again and tell me more. Love Bill xx."
Asked how the letter made her feel, the woman said: "I suppose I was flattered at the attention. I didn't understand some of it. I had not written a letter. I left a note as well as my address. The 'tell me more' didn't make sense. I don't know what it referred to."
The woman said after receiving the letter she returned to the studios later in the year.
She told the court Mr Roache told her to wait outside and would pick her up in his car.
Louise Blackwell QC, defending Mr Roache, suggested the pick-up arrangement was "odd".
"No", the complainant said, "because at that stage I thought we were having some sort of clandestine relationship, however tenuous."
The jury heard he later parked near a railway embankment in Stockport and Mr Roache asked about her age.
She told the court a conversation took place about oral sex, during which he said: "I won't do it properly until you're 16."
The woman said at the time she would not have understood what he had said.
A second complainant was 16 when she said she was approached by Mr Roache in the ladies' toilets at Granada.
"As I went in I suddenly was aware of somebody behind me and I turned round and he was right in my face, absolutely right in front of me. I could not move," she said.
She said he "more or less pinned me against the back of the wall" and put his hand underneath her jumper and squeezed her breast.
The woman confided in her husband 20 years ago as they were watching Coronation Street.
The trial continues on Thursday.