Norfolk PCC Stephen Bett pays back mileage expenses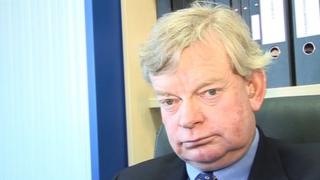 The Police and Crime Commissioner for Norfolk has paid back more than £2,700 in mileage expenses.
In November, the BBC revealed Stephen Bett claimed more than £3,000, for trips from his home in Thornham, near Hunstanton, to the offices in Wymondham.
Mr Bett said the claims were "transparent and above board" but later promised he would pay back the money.
He said he had now paid back an amount calculated by independent auditors.
Mr Bett was elected as independent PCC in November 2012 on an annual salary of £70,000.
'Made a commitment'
He designated his home as his workplace, which he said allowed him to claim mileage when travelling from there on official business.
His website showed he claimed £3,024 for 70 round trips from his home to Wymondham, but tax expert Richard Murphy said the payments were a taxable benefit that could not be justified.
Mr Bett said: "Independent auditors spent several days going through all my travel claims with a fine-tooth comb and concluded the final figure amounted to £2,721.60. I can confirm that I paid back that sum in December."
A spokesman for Mr Bett said, on taking office, Deputy PCC Jenny McKibben had given a written undertaking not to claim mileage from her home to Wymondham.
"A thorough review of all her claims found an administrative error leading to some expenses being wrongly calculated," he said.
"As a result £124.24 was paid back immediately. The Deputy PCC has not claimed any expenses since September and will not be claiming any more for any trip within Norfolk."
Norfolk Police and Crime Panel, which scrutinises the work of the PCC, referred the issue of Mr Bett's expenses to the Independent Police Complaints Commission (IPCC) , following two complaints from the public.
An IPCC spokesman said the evidence was still being assessed.