Home care delay boy Alex Dieterle remains in hospital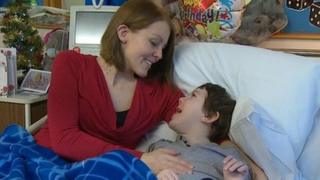 A 10-year-old boy from Cornwall is still in a Plymouth hospital four months after his mother was told he was well enough to go home.
Doctors said Alex Dieterle, who has cerebral palsy, was well enough to leave Derriford Hospital in September.
But a problem with provision of his home care meant he spent Christmas in a children's ward.
Health and care managers said Alex would not be discharged "until a safe package of care" was in place.
'Constant contact'
Alex was taken to Derriford for treatment last summer when he contracted a chest infection before being told in September he was fit enough to leave.
His mother, Jo Hudgell, from Gunnislake, has said ideally her son should be at home and he was entitled to a home care support nurse to help with turning him in bed and to administering other treatment.
Although she can carry out much of his medical care, Ms Hudgell is registered disabled because of trouble with her hip.
Speaking about the extra delay, she said: "I can't replace the time he's wasted in here and I just hope that, when we finally do get home ... he will enjoy his life."
Health and care bosses had previously apologised for delays in arranging his home care, adding it was "absolutely not" a funding issue.
In a new statement, both clinical commissioning group NHS Kernow and Cornwall Council said they were committed to getting Alex discharged from hospital quickly but they were "continuing to discuss the care arrangements with a range of potential providers".
They added: "Alex cannot be discharged from hospital until a safe package of care is put in place that meets both his and his mum's needs.
"We remain in constant contact with Alex's family."