Tributes paid to cyclist who died in Oxfordshire floods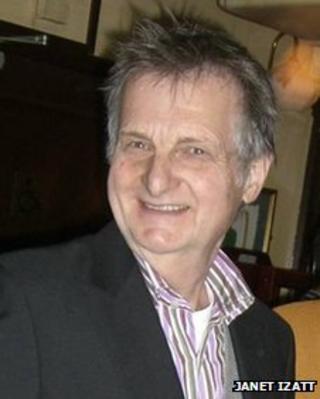 A 73-year-old who died after trying to cycle through floods in Oxfordshire was remembered at a service at All Saints Church in Wytham on Sunday.
Ian Taylor, who died on Wednesday in Wytham, was described by friends as "vibrant, brilliant and caring".
The Environment Agency says at least 58 homes in Berkshire and 35 in Oxfordshire were flooded in January.
A clear-up is now under way in both counties as the Thames' water levels stabilise.
Oxford's Abingdon and Botley roads have reopened.
The Environment Agency said water levels on the Thames had stabilised upstream from Maidenhead, although further rain was predicted on Wednesday.
In Wraysbury and Old Windsor, which lie downstream from Maidenhead, a number of homes have flooded over the past week.
Mike Smith, 79, a resident of Wraysbury, said: "We've been trapped in the house for four days, it's about three foot deep around our house, but it's going down now."
Flood wardens 'heroes'
Chairman of Wraysbury parish council, Andrew Davies said: "The real heroes over this period have been the flood wardens out and about, delivering sandbags.
"They've had very little sleep over the past few days."
In Purley-on-Thames in Berkshire, flood wardens used canoes to ferry stranded residents to safety last week after their homes were surrounded by rising water.
Flood levels are now receding.
In Oxfordshire, two people have died in flood water, tens of homes were flooded over the past week and sewage systems have backed up in west Oxford.
As waters drain away, roads have been reopened and people living in flood-hit areas say the situation is improving.
An inquest into the death of Mr Taylor, who lived in Abbey Road, Oxford, is expected to open and adjourn on Tuesday.
His wife, Karen, said she wished to thank all those who came to her husband's aid, as well as to the police, the ambulance service and the John Radcliffe Hospital.