Long-distance councillors Alan and Jean Willicombe cleared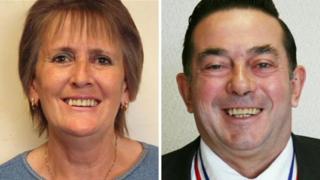 A former Kent mayor and mayoress have been cleared of any wrongdoing after they moved to a village more than 150 miles from the ward they represent.
Alan and Jean Willicombe continued representing Woodstock in Sittingbourne on Swale Borough Council after they moved to Lincolnshire.
The council said it had received 53 complaints but the couple had not breached its code of conduct.
Mr Willicombe said he never thought they had done anything wrong.
The Conservative couple moved to Gedney Drove End in October saying property prices there were cheaper and their house in Kent sold quicker than expected.
'Out of touch'
Mr and Mrs Willicombe have served 24 years on the council between them.
They arranged for two other councillors to attend to issues in their absence until the ward was disbanded in 2015 due to boundary changes.
Opposition councillors said they would be out of touch with constituents.
An investigation was carried out by the council's monitoring officer into the complaints alleging Mr and Mrs Willicombe had failed to observe its code of conduct adopted in 2012.
Mr Willicombe said: "I never thought for one moment that I had done anything wrong and I have been proved correct."