Released prisoner Peter Watton guilty of kidnap rape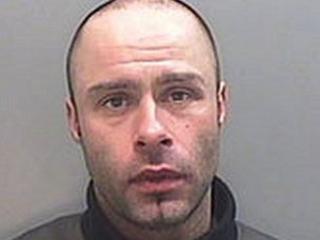 A man has been found guilty of kidnapping and raping a woman two days after he was released from a prison sentence for kidnap and robbery.
Peter Watton, 37, of Lache, Chester, attacked a woman, 44, who was jogging with her dog in the city in June, a jury at Chester Crown Court found.
He was convicted of twelve charges including rape, false imprisonment and possession of a knife.
The Probation Service said risk "can never be completely eliminated".
Watton had been released from prison halfway through a six-year sentence for kidnap and robbery.
'Ran for her life'
He threatened the victim with a knife in a nine-hour assault, the court heard.
She thought she was going to die as Watton, who is 6ft 3in, tattooed and described as musclebound, repeatedly raped her over several hours and told her he "had been watching her for two weeks", the court heard.
The prosecution said that throughout the woman's ordeal Watton tried to get his victim to feel sorry for him and threatened to kill himself through a drug overdose.
When the woman tried to build a rapport with him in the hope he would let her go, the court heard he told her that if police were called he would "take a lot of them out".
She eventually "ran for her life" towards a house in the distance and escaped, the jury was told.
Watton was caught following a six-day search by police.
The court heard he had admitted trying to kidnap a woman while posing as a police officer in 1999.
'Lies and deceit'
Det Insp Simon Lonsdale said the victim's "courage and determination has enabled us to return a very dangerous man back to prison for a long time".
He added: "Watton put the victim through a terrifying ordeal lasting several hours and had the audacity to claim the contact was consensual.
"Thankfully the jury saw through his lies and deceit and he will stay behind bars where he belongs."
Sentencing was adjourned for three weeks but Judge Elgan Edwards warned Watton he faces a "severe" lengthy jail term.
A Probation Service spokesman said: "We are determined to have the best possible systems in place to supervise offenders in the community and work hard to manage risk but sadly it can never be completely eliminated.
"A detailed review has been carried out to identify if any lessons can be learned for the future."