USAF helicopter crash: Online fund for Lakenheath families tops $28,000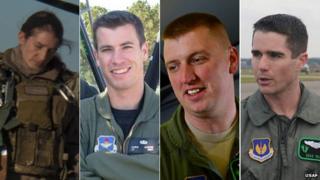 An online fund to raise money for the families of four US aircrew who died in a helicopter crash has reached more than $28,000 (£17,000).
Capt Christopher Stover, Capt Sean Ruane, Technical Sgt Dale Mathews and Staff Sgt Afton Ponce, based at RAF Lakenheath, Suffolk, died while on a training mission in Norfolk on Tuesday.
Caitlyn Malone, who set up the fund, said the response was "overwhelming".
The United States Air Force declined to comment on an unofficial fundraiser.
However, a spokesman at Lakenheath said the base was "proud" of how the local community had "stepped up" as a whole to help those in need during the past few days.
The Pave Hawk helicopter the crew were in crashed during low-level night training in marshes near Cley on Tuesday.
All four crew members from the 48th Fighter Wing were confirmed dead at the scene. Captains Stover and Ruane were pilots on the flight, while Tech Sgt Mathews and SSgt Ponce were acting as special mission aviators.
'Absolutely incredible'
The bodies have since been removed from the site and were due to undergo post-mortem examinations on Friday.
An investigation into the crash has begun and it could take several weeks for a cause to become clear.
Mrs Malone, who lives in Lakenheath and whose husband used to serve there before being transferred to nearby Mildenhall, said people had donated from across the UK and the US, with someone contributing $1,000 (more than £600) towards the cause.
The fund reached its initial target of $4,000 (£2,428) in a number of hours. Mrs Malone said the final amount would be divided evenly between the four victim's families.
"The response to this fundraiser has been absolutely incredible. I never dreamed it would reach the amount that it has now, and it's overwhelming, but it's been an amazing experience," she said.
"We as a military community are very close and I feel like most times people don't see that side of it.
"However, as a community we know of the risks that we take when we send our spouses and loved ones off to work every day and into combat."
A special service is to be held on Sunday at the church in Salthouse, near Cley, in memory of the four aircrew.
Father Philip Blamire, rector of the Weybourne Group of Parishes, said the Bishop of Lynn, the Right Reverend Jonathan Meyrick, would "preside at the service".