Warning over more cliff collapses in South West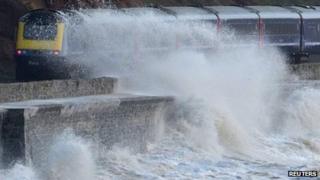 A coastal erosion expert has warned that the new year storms could see more cliffs collapsing later this year.
Storms have already caused a number of collapses around the coast, including at Porthcothan Bay in Cornwall where a landmark rock arch fell into the sea.
Two people were also swept into the sea and died in Devon and Cornwall, and a teenager is feared dead.
Dr Mark Davidson from the University of Plymouth said damage to the coastline was "absolutely extraordinary".
He said: "Often the response is very immediate, we have seen sea walls crumbling locally.
"But often the effects take longer to be realised, in particular the under-cutting of sea cliffs is something which may undermine it and later may cause problems."
'Vigilance needed'
Damage caused by the recent stormy weather in Cornwall will cost about £2m to repair, Cornwall Council has said.
The authority has also released a new warning advising people not to visit locations in the county badly affected by storms.
It said the car park at Portreath was evacuated on Monday because storm watchers and people wanting to see pier damage were putting themselves in danger.
Officers also warned harbour walls and coastal paths around the county were still potentially dangerous.
The council said it had started repairs, but people were advised to stay away from vulnerable areas as landslips were still possible.
Cabinet member for the environment Edwina Hannaford said: "With the water table being so high and potentially more rain coming through the month, and more very high tides coming through at the end of January, we have to be vigilant."