Channel Tunnel 4G coverage plan unveiled by EE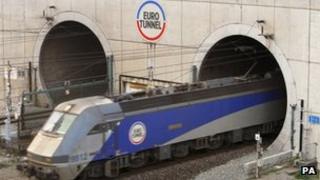 The Channel Tunnel will have fourth generation (4G) mobile phone services by the summer, an IT company has said.
Operator EE said 2G and 3G services would be available in the France-bound tunnel from March, and the whole tunnel would have superfast 4G within months.
The company said the 35-minute journey from Kent to France would be enhanced for commuters and holidaymakers.
Vodafone will also provide coverage under a deal with cross-Channel rail operator Eurotunnel.
Cross-Channel commuters
Eurotunnel said Vodafone would also provide 2G and 3G services in the tunnel and the phone company also planned to offer 4G coverage later.
The rail operator said it had signed a 10-year agreement with EE and Vodafone.
EE said the Channel Tunnel had no wifi, unlike the London Underground, and it had built the physical infrastructure in the tunnel to carry the mobile phone signal.
Chief technology officer Fotis Karonis said: "It's another technology first for EE, and it's one that will make a big difference to business workers and people going away on holiday."
He said commuting business workers and holidaymakers would be able to use the 4G network to prepare for meetings, check emails, plan travel routes, research a holiday destination or watch streamed movies.
About 20 million people travelled through the tunnel between Folkestone and Calais each year on Eurotunnel and Eurostar trains, he added.