Helicopter crash: Four dead US air crew named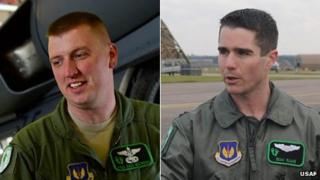 The four US crew members who died in a helicopter crash in Cley next the Sea, north Norfolk, have been named.
The US Air Force said the crew of the helicopter were Capt Christopher S. Stover, Capt Sean M. Ruane, Technical Sergeant Dale E. Mathews and Staff Sergeant Afton M. Ponce.
The HH-60G Pave Hawk from the 48th Fighter Wing was based RAF Lakenheath in Suffolk and came down on Tuesday.
It was on a low-level night training mission carrying live ammunition.
Ammunition hunt
Tributes have been paid online to Capt Ruane, who leaves a wife Rachel and their young son Liam.
His cousin Brian Meyer tweeted: "My cousin died in a helicopter crash tonight. Pretty tore up about this.
"Everyone: thanks for all the kindness. I'll pass it along to his wife and child when we see each other soon."
Authorities have said that the bodies of those killed in the crash are unlikely to be recovered until Thursday.
Air accident, RAF and US investigators have spent the day at the scene of the crash.
A statement from 48th Fighter Wing said the helicopter was performing a low-level training mission along the coast when the crash took place.
The investigation is being hampered because it was carrying munitions, meaning that ordnance has been scattered around the scene, investigators said.
A spokesman said they were aware of how much ammunition was on board and are attempting to account for it all.
A 400-metre police cordon is expected to remain in place at the scene until Monday and the public have been asked to stay away.
The HH-60G Pave Hawk, a version of the US Army's Black Hawk helicopter, is used by the US Air Force for combat search and rescue, mainly to recover downed aircrew or other isolated personnel in war zones.
The helicopter, made by Sikorsky, has been used in numerous military missions, in Iraq and Afghanistan, as well as civilian rescue operations after disasters like the 2004 Boxing Day tsunami in Sri Lanka and Hurricane Katrina in the US in 2005.
The Pave Hawk, which came into service in 1981, has a four-man crew and can carry up to 12 troops.
A derivative of the more famous Black Hawk helicopter, the Pave Hawk gets its name from the acronym for Precision Avionics Vectoring Equipment.
They are used for combat search and rescue, recovering downed aircrew or other isolated personnel in combat situations.
RAF Lakenheath, where US Airforce 48th Fighter Wing is based, said that Captains Stover and Ruane were pilots, while Tech. Sgt. Mathews and SSgt Ponce were acting as special mission aviators.
Col Kyle Robinson, 48th Fighter Wing commander, said: "We continue to think of the loved ones who are experiencing such a tragic, sudden loss.
"The Liberty Wing feels as though it has lost members of its family, and we stand by to support one another and these airmen's families during this difficult time."