Trust warned over staff shortages at Royal Lancaster Infirmary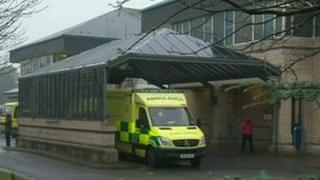 Health inspectors have issued a formal warning to an under-review NHS trust over "unacceptable" staff shortages at the Royal Lancaster Infirmary.
The Care Quality Commission (CQC) found staff shortages on one ward were linked to treatment errors and falls and patients had to wait too long for help.
Maternity services at Furness General Hospital had improved, the CQC said.
University Hospitals of Morecambe Bay NHS Foundation Trust (UHMBT) said "urgent action has been taken".
Recruiting new staff
The trust, which manages four hospitals in Lancashire and Cumbria, was heavily criticised in 2011 after the CQC highlighted "serious" concerns over maternity and emergency care.
The report led to an investigation over the deaths of babies at Furness General Hospital and trust bosses were criticised for delays in emergency treatment at Royal Lancaster Infirmary.
During the unannounced follow-up inspection in October, the CQC said "significant concerns" had been identified on ward 39 of the hospital in Lancaster:
Staff told inspectors that staff shortages were affecting their ability to provide adequate care
Insufficient staffing may have contributed to high numbers of medication errors and patient falls
Patients said they had waited for long periods of time before they received help or support
Malcolm Bower-Brown, CQC regional director for the North, said: "The staffing concerns on ward 39 at the Royal Lancaster Infirmary were unacceptable."
"We warned the trust that it must take further action to ensure safe and effective care is provided to every patient," he added.
The trust has met with inspectors to discuss an action plan.
'Respect and dignity'
Sue Smith, the UHMBT's executive chief nurse, said work had already taken place including daily teleconferences with senior nurses and managers and recruitment of new staff.
"We are also beginning to use a measurement of the illness of patients we are treating to ensure that in the long-term our staffing meets the needs of our patients," she added.
In September, the head of NHS England Sir David Nicholson said the maternity unit at Furness Hospital should stay after staff shortages were also highlighted.
The inspection team also said UHMBT's maternity services were "meeting" national standards with patients being "treated with respect and dignity".
The report found Furness General Hospital in Cumbria had improved shortfalls in relation to infection control.
Mr Bower-Brown added: "We continue to monitor the situation carefully, liaising closely with NHS England, Monitor and local commissioners, to ensure that the required improvements are implemented."
Inspectors will return unannounced to Royal Lancaster Hospital. A planned inspection is scheduled take place in February.