Yorkshire Tour de France authorities say plans are on track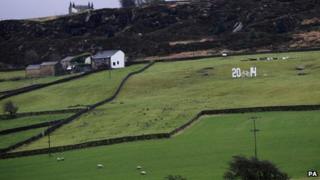 Six months before one of the world's biggest sporting events takes place in Yorkshire, authorities say their plans are on track.
The Tour de France begins with the Grand Départ in Leeds on 5 July, when competitors will race to Harrogate.
The second stage is from York to Sheffield the day after.
York City Council said it was finalising plans for spectator hubs and Welcome to Yorkshire said it was in a "great position" with six months to go.
Local authorities involved in the race are contributing £10.6m towards the £27m budget of hosting the English legs, including the third leg on 7 July from Cambridge to London.
Organisers TDF Hub 2014, chaired by Sir Rodney Walker, said about a third of the money had already been spent on "bid related and preparatory costs" to secure the event.
About £4m of the budget is allocated for road resurfacing and highway maintenance work, which a report produced by the company last month said was on schedule.
'Massive for Yorkshire'
York councillor Sonja Crisp said: "We are busy getting the city ready.
"We're planning further events for businesses in February and March to help them make the most of the opportunities, such as a city-wide discount scheme on the day to help turn event footfall into retail footfall."
Meanwhile Welcome to Yorkshire and the First Direct Arena in Leeds have announced plans for a team presentation event on 3 July.
Welcome to Yorkshire chief executive Gary Verity said: "We collectively promised... to host the grandest of Grand Départs.
"By the time the teams take their place on the [arena] stage, people will truly realise how massive this event is for Yorkshire and globally."
The Leeds to Harrogate leg of the race will start on the Headrow in Leeds and head north out of the city north towards Harewood through Skipton, Hawes, Leyburn and Ripon - a distance of 118 miles (190 km).
The second stage travels from York through Keighley, Hebden Bridge, Huddersfield and High Bradfield before arriving at Sheffield Arena 124 miles (200km) later.
The race will continue from Cambridge to London on Monday 7, prior to the French stages from 8 until 27 July.