Flood-hit coastal areas prepare for more high tides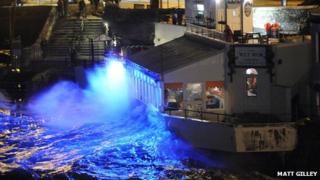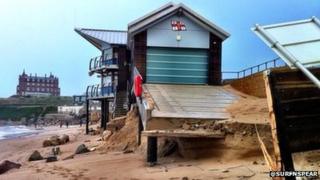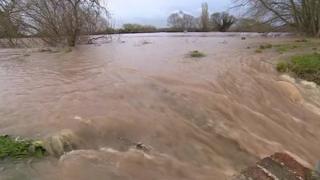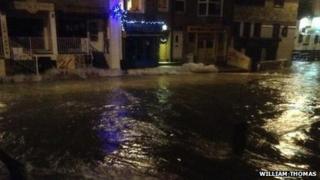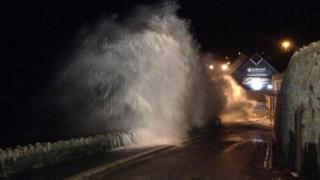 Nearly 300 Environment Agency flood warnings and alerts are in force across England as coastal areas are hit again by high spring tides.
Some areas have flooded twice in less than 24 hours.
A man is missing after leaving home to take photographs of stormy seas off Wemburby Point in Devon.
In Gloucestershire, the River Severn burst its banks when high tides combined with the Severn Bore and extra water coming downstream.
The Environment Agency said water came within a few inches of going over the top of significant flood defences, but "things could have been worse".
The Met Office said the recent spate of storms was the worst in about 20 years and had been caused by a "really powerful" jet stream pushing a series of Atlantic depressions towards the UK.
"Sunday could be the last of the really big storms and it may just be a notch down - a bit less severe," spokeswoman Helen Chivers told BBC News.
"In the grand scheme of things these spells could well rank as the stormiest period of weather since January 1993."
Brixham Coastguard has been coordinating a major land, sea and air search for the missing 18-year-old from Devon.
Harry Martin was last seen by his family at lunchtime on Thursday, when he left home at Membland, near Newton Ferrers, to take photographs of the stormy seas at Wembury Point.
The search was suspended on Friday evening because of the difficult conditions.
Lightning strikes
Flooding, high winds and lightning have caused damage and disrupted travel:
First Great Western said "multiple lightning strikes" on signalling equipment had resulted in delays of about two hours on trains between Plymouth and Penzance
Brittany Ferries cancelled its crossings to and from Plymouth
Families were evacuated from a block of flats in Aylesbury, Buckinghamshire, after it was damaged in a lightning strike
Rough seas are believed to have caused a cliff collapse at Rock-a-Nore in East Sussex
Hundreds of homes are without power in Cornwall
Dog owners have been advised to keep their pets off beaches in Newquay, Cornwall, because palm oil, which poisons dogs, has been washed up
The storm, which swept in from the Atlantic, hit the Isles of Scilly first.
Dale Clark, the harbourmaster on St Mary's, said: "It was one of those days when you just wanted to batten down."
The Environment Agency said people should protect themselves and their belongings, but should not put themselves in danger.
It said recent heavy rain, saturated ground and high river levels meant there was also an increased risk of rivers flooding.
The Met Office said a combination of lowering pressure and high tides, together with already high levels of ground saturation, would bring the risk of flooding.
Two people died earlier this week - a woman in north Devon and a man in Cornwall - after they were swept out to sea in stormy conditions.